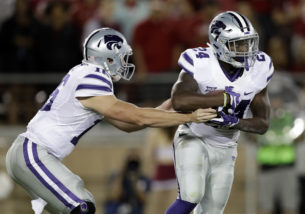 It's no figment of imagination that the wait for Kansas State's first home game of the season has been longer than usual. After a loss at No. 8 Stanford in the season opener and a bye week, the Wildcats are impatiently waiting for the program's latest home opener since 2001.
The wait is almost over, however, as K-State welcomes Florida Atlantic to Manhattan on Saturday afternoon.
"It's not normal for us to have a hundred practices without playing at home," head coach Bill Snyder said at Tuesday's press conference. "I can sense some anxiety from the players. I have a little of it myself, and I usually don't."
The Wildcats are eager to take the field at Bill Snyder Family Stadium for plenty of reasons, not limited to seeing a purple-clad sellout crowd for the first time since topping West Virginia in the 2015 regular season finale.
More than anything, K-State wants to show the progress it's made in the 15 days between games one and two.
"Playing in front of the home fans is an experience unlike any other," K-State running back Justin Silmon said. "There's a lot of reasons for us to be excited for this game. But playing better football and getting one in the win column are the biggest things for us."
K-State was more than serviceable defensively against Stanford in the opener — holding the Cardinal below 30 points and 300 total yards — but the Wildcat offense left plenty to be desired.
Junior quarterback Jesse Ertz struggled in his first full game at the college level, completing just 16 of 34 passes for 207 yards, one touchdown and an interception. He missed parts of the second half with cramping issues, and in Ertz's absence, Joe Hubener completed three of seven passes with an interception.
The Wildcats didn't find the endzone until the 2:20 mark of the fourth quarter. So, naturally, there is a burning desire for a good performance against the Owls.
"We weren't happy with our results in the Stanford game," Silmon said. "We've been focused on getting our mistakes corrected. We've seen some things on film that we can do better, and I know we're excited to get a chance to break some big plays."
FAU may provide just the matchup K-State needs to build some confidence on offense. The Owls (1-1, 0-0 Conference USA) have allowed an average of 500 yards per game to opposing offenses in their first two contests; one of which was against Southern Illinois, an FCS squad who very nearly beat FAU in Boca Raton, Florida two weeks ago.
SIU led at halftime and accumulated 530 yards before losing late, 38-30.
Last weekend, Florida Atlantic was routed by No. 25 Miami 38-10 on a rainy night in South Florida. In that game, it was the FAU offense that struggled, as the Owls were held to just 214 yards of offense.
Saturday's kickoff is set for 1:30 p.m. Powercat Gameday will begin at 9:30 a.m. and will air live from Cat Town.