Students, faculty and staff at Kansas State University gathered for a discussion in Forum Hall on Wednesday afternoon.
As required by state law, concealed handguns will be allowed on campus by anyone of legal age to carry. Since this law was passed in the summer of 2015, leaders at the university have been looking to implement a policy which is safe for the public and acceptable for gun carriers. The purpose of public forum was to seek input from the people who will be most affected by the new policy.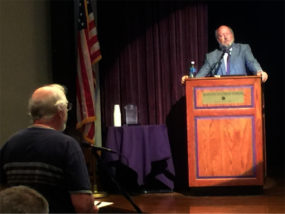 Fred Guzek, faculty senate president, served as a moderator for the forum and encouraged all participants to be open-minded and considerate of other viewpoints. Tensions ran high at some points throughout the forum.
"What concerns me of what I see as a very servile attitude in the face of this dangerous and ridiculous law that has been hoisted on us by a bunch of right wing nuts in Topeka," said Jim Machor, professor of English.
Others expressed their satisfaction with the new law, including an employee in the union who spoke about his personal safety as a motivator.
Guzek was able to reel the crowd back in and discuss the reality of the new policy.
On July 20, 2017, concealed handguns will be allowed in all campus buildings with very few exceptions. The nuclear reactor on campus will be off limits to concealed carry due to federal law, and venues such as McCain Auditorium and Bill Snyder Family Stadium would be exempt in the event of adequate security and metal detectors. The proposed policy at K-State would require carriers to have their gun holstered in a device which covers the trigger, with the hammer pulled back and no bullet in the chamber.
The university must submit their recommendations and input to the Kansas Board of Regents by Sept. 16. The new weapons policy will be passed by the end of the semester.