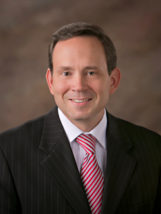 Kansas Gov. Sam Brownback has appointed Manhattan attorney Grant Bannister to be the next district court judge, serving Riley and Clay counties.
Bannister has been a partner in the Knopp & Bannister law firm in Manhattan for 20 years, and will fill the seat left vacant by Judge David Stutzman, who left the bench last June to accept a position with the Kansas Court of Appeals.
"I am pleased to appoint Grant Bannister to the 21st District Court," said Brownback in an email from his office Monday. "His experience makes him an excellent choice to serve the residents of Clay and Riley counties."
Bannister, a native of Hays, received his law degree from the University of Kansas in 1997.  As an attorney, Bannister has engaged in general practice with an emphasis on litigation and business transactions.  He's also served on several boards of directors in the Manhattan area, including Homecare and Hospice, Manhattan Area Habitat for Humanity and Boys Scouts of America. He also serves as an adjunct faculty member at Kansas State University and is also a member of the Board of Governors for the University of Kansas School of Law.