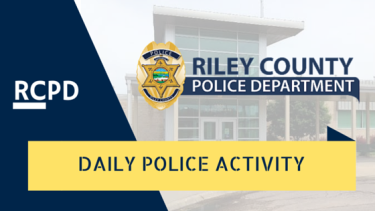 A report was filed in the 1200 block of Laramie Street for the offense of aggravated assault just after midnight on September 5. Officers were informed of an incident that involved a car with 2 males inside. One of these males brandished what witnesses believed to be a firearm. The matter is currently under investigation and ask that anyone with information contact the Manhattan Riley County Crime Stoppers.
Police filed a report for the offense of aggravated criminal sodomy in Ogden on September 5. This crime occurred on the evening of September 4, and involved a 31-year-old female victim. Police were told that the suspect was a 39-year-old male who was known to the victim. Due to the nature of this crime no further information has been released.
RCPD filed a report for the offense of theft in the 600 block of Leavenworth Street in Manhattan on the morning of September 4 for a crime that occurred the night before. Police listed Robert Huber, 48, of Manhattan as the victim when a 12-foot flatbed trailer was removed from the area without his permission. The Finish Line Trailer was black with a Kansas license plate valued at approximately $1,700.00. If you have information about this crime contact the Manhattan Riley County Crime Stoppers.
29-year-old Amanda Buckley was arrested on September 5 after a traffic stop in the 500 block of Yuma Street in Manhattan on several drug possession charges, as well as driving without a license. She was given a bond of $9,000.
The Riley County Police Department arrested Kevin Harbaugh, 34, of Manhattan on September 3, 2016 at approximately 6:00 PM. Harbaugh was arrested while in the 900 block of Pierre Street in Manhattan on the several offenses, including driving on a suspended or revoked license, and failure to appear for several offenses, which resulted in a motion to revoke parole. He was released on a $19,000 bond. Alicia Minner, 31, of Ogden, was also arrested on September 4 in the 200 block of 7th Street in Ogden. Minner was arrested on the offenses of failure to appear with original offenses of motion to revoke parole for the offense of battery, domestic battery, and drug possession. She was given a $16,000 bond.
Mark Burghart, 49, of Manhattan was arrested on September 2 on the offense of failure to appear with an original offense of aggravated burglary. He was given a bond of $40,000.00. Police also arrested Craig Lewis, 26, of Carbondale, Kansas on September 2 on the offense of failure to appear with an original offense of possession with intent to use drug paraphernalia. He was given a bond of $5,000