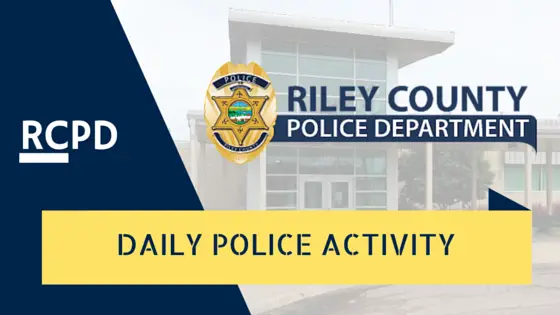 Two incidents involving teenagers were worked by Riley County Police Tuesday. Keith Smith, 19, of Ogden was arrested Tuesday afternoon at the Courthouse and charged with a felony of criminal possession of a weapon. Bond was listed at $10,000 thousand dollars.
Also taken into custody Tuesday were Kyler Nations, 16, of Ogden for battery and 17 year old Preston Peters of Manhattan for aggravated assault. Both juveniles were released to parents/guardians. Officers are investigating the incident which involved a pocket knife being brandished during a verbal and then physical altercation in the 2100 block of Poyntz Avenue. No significant injuries were listed. Police describe victims as being a 17-year-old male and a 16-year-old male.
###
The results of an early morning sobriety checkpoint this past weekend have been released by Riley County Police. RCPD and the Kansas Highway Patrol conducted the checkpoint in the early Saturday morning in the 300 Block of Bluemont Avenue. in Manhattan. The checkpoint was designed to identify impaired drivers and remove them from the roadway.
487 vehicles were stopped in the checkpoint between 11:45 p.m. and 2:40 a.m. Of those 14 were evaluated for DUI and eight were arrested. Three additional subjects were arrested on possession and driving while revoked charges. There were also four citations issued for transporting an open container of alcohol.
The Kansas Department of Transportation provides funding for the checkpoint through a grant.