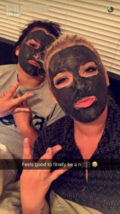 A former student has put K-State in the national headlines for all the wrong reasons Thursday.
A Snapchat photo went viral after two women were seen in what appears to be blackface and the caption, "Feels good to finally be a n—–."
The owner of the Snapchat account, Paige Shoemaker, is no longer enrolled, according to a statement from interim Associate Provost for Diversity Zelia Wiley.
Reports indicate she was expelled in 2015.
"The involved person is not currently enrolled at the university," Wiley said. "It is our understanding the second individual in the photo is not associated with the university."
Shoemaker took to Facebook just after 3:30 p.m. Thursday, according to the K-State Collegian, and identified the woman in the background as Sadie Meier.
"Sadie Meier and I want to formally apologize for the picture that has gone viral of us," she said. "We clearly understand that what was said and done was completely disrespectful. I did want to inform everyone that it was NOT 'black face,' but it was a L'Oreal clay facial mask. The signs that were thrown also is an inside joke between our friends that represents 'West Coast is the best coast.'
"We never intended for the picture to offend anyone. We had only meant for it to be taken in a funny way, but we clearly understand that what we said should never be joked around about.
"People shouldn't joke around about such a serious topic like this because it feeds into racism. We accept that there will be people who won't forgive us, but something had to be said. Ask anyone who knows us, we are the most accepting and least racist people. We know that we will ride up and learn from this mistake. We will be better and make sure to do more than someone who is a true racist. We will battle everyone for the right to make things right, because we know what we did was wrong."
Bryan Davis, the president of K-State's Black Student Union, told KMAN in an email, "Today is not a good day." Davis said a formal statement will be released from the BSU soon.
K-State's Beta Upsilon Chapter of Zeta Tau Alpha released a response following the post as Shoemaker was a former member of the chapter.
"We have become aware that a former member of our chapter has posted racist comments on her social media channels," the chapter posted on its Facebook page. "While she did join the Beta Upsilon Chapter at Kansas State University in 2013, she was expelled from the chapter and is no longer affiliated with the organization. Her words and actions certainly do not reflect the values and principles of Zeta Tau Alpha. Our Creed teaches us to look for the good in everyone and to seek understanding in order to gain true wisdom. Our Fraternity's membership includes women of many races, nationalities and religions and we all strive to seek the noblest in every endeavor."
K-State Vice President for Student Life and Dean of Students Pat Bosco quickly issued a statement through "K-State Today."
It reads:
Dear students, faculty and staff,
I have become aware that one of our students posted a racially offensive photo today on social media and used one of the most derogatory words in the English language. This photo has students, faculty, staff and other members of the K-State family upset. It rightly should, as there is no place for racism at our university, regardless of what the intentions may have been. K-State prides itself on being one family, no matter your race, ethnicity, gender, sexual orientation or abilities. All members of the K-State family deserve to be treated with dignity and respect.
As always, I want to applaud our students for their maturity and actions when it comes to these issues. Our students, faculty, administration and the Office of Diversity have done phenomenal work in areas of diversity and inclusion on our campuses. I especially want to note the diligent work of the K-State Black Student Union and its efforts and legacy of addressing these issues in an effective and pragmatic way. Over the past few years, BSU has worked in unison with the Staley School of Leadership Studies on its Cats for Inclusion Campaign. This campaign works to create effective dialogue around issues of race, and teaches would-be allies on how to take an effective anti-racist stance: catsforinclusion.wordpress.com.
I also am proud of the preliminary work that a cross section of student leaders from various organizations, including the Black Student Union, Hispanic American Leadership Organization, Asian American Student Union, Native American Student Association and the Student Governing Association, has done to create a student initiative around issues of diversity. Even with these initiatives, we obviously still have work to do. We are firmly committed to the principles of community at Kansas State University, and it is important that we educate our students daily on these principles. We must do better, and we will do better.
Pat Bosco
Vice President for Student Life and Dean of Students