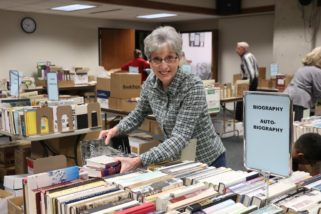 Thousands of books will be available at the Manhattan Library Association's (MLA) Annual Book Sale. The sale will be held the last weekend in February in the auditorium of the Manhattan Public Library, located at 629 Poyntz Avenue. For the first time, cashiers will be able to accept credit and debit cards with a minimum purchase of just $1.00
Friday, Feb. 24, from 5:30 – 7:30 is a special preview night, open to MLA Members only, who will get first pick of the sale items. New memberships will be sold at the door, starting at $10 for an individual, $15 for families, and $25 for organizations.
The library's book sale will be open to the public on Saturday, Feb. 25, from 10:00 a.m. to 4:00 p.m. and Sunday, Feb. 26, from 1:00 – 3:30 p.m. Sunday prices will reflect special deals on the remaining materials.
Bargains abound at this annual sale with:
Hardcover books –  $1.50
Children's hardcover books –  $1.00
Softcover books (trade paperbacks) –  $1.00
Mass market paperbacks for children or adults – 50 cents
DVDs  – $2
CDs –  $1
Audiobooks on CD – $4
Audiobooks on cassette –  $1.00
Vinyl – 25 cents
Sheet music – 25 cents
Coffee table and specialty books priced as marked.
All of the money raised will be used to fund library programs and purchases such as new books and furniture, special events for children, and summer reading programs. In 2016, more than $10,000 was raised to support the library.
Organizes say this is truly a community event, staffed by wonderful volunteers like Roger Brannan, Keri Mills, Elaine Shannon, Carol O'Neill, and Carol Oukrop, who devote countless hours of work to organize the sale. Helpers from Job Corps and the Tau Kappa Epsilon fraternity make the heavy-lifting much easier, and community supporters such as Dara's, the Manhattan Mercury, and Community First National Bank do an excellent job getting the word out.