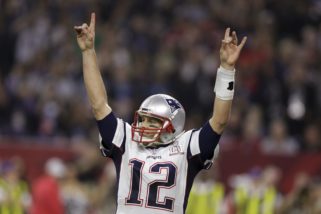 HOUSTON — Tom Brady's record fifth Super Bowl win was his finest.
New England's star quarterback earned game MVP honors after leading a comeback from a record 25-point deficit for a 34-28 win over Atlanta in the first Super Bowl that went to overtime.
James White scored the game winner from two yards out on the only possession of the extra period as New England scored the final 31 points of the game.
Brady led the charge going 43 of 62 for 466 yards and two scores. His passing attempts and passing yardage set Super Bowl records. His fourth Super Bowl MVP award is also a record for the title game.
Brady shook off five sacks to lead New England to its fifth Super Bowl title in seven attempts, all under coach Bill Belichick. He becomes the winningest coach in Super Bowl history.
Brady started the comeback by hitting White for a five-yard pass for the running back's first of three scores. White had a Super Bowl record 14 receptions for 110 yards.
Brady also connected on a touchdown pass to Danny Amendola before a White touchdown run with 57 seconds left. Both were followed by two-point conversion — one by White, one by Amendola — that sent the game to overtime.
Atlanta appeared to be on the way to its first Super Bowl win after Matt Ryan threw a six-yard scoring pass to Tevin Coleman in the third quarter for a 28-3 lead.
But New England's defense took over, forcing a Ryan fumble that led to a touchdown and coming up with a key sack that took the Falcons out of field goal range while they held a seven-point lead in the fourth quarter.
Atlanta quarterback Matt Ryan was 17 of 23 for 284 yards and two scores a day after being named the NFL MVP.
Robert Alford returned a Brady interception 82 yards for a touchdown for the Falcons.