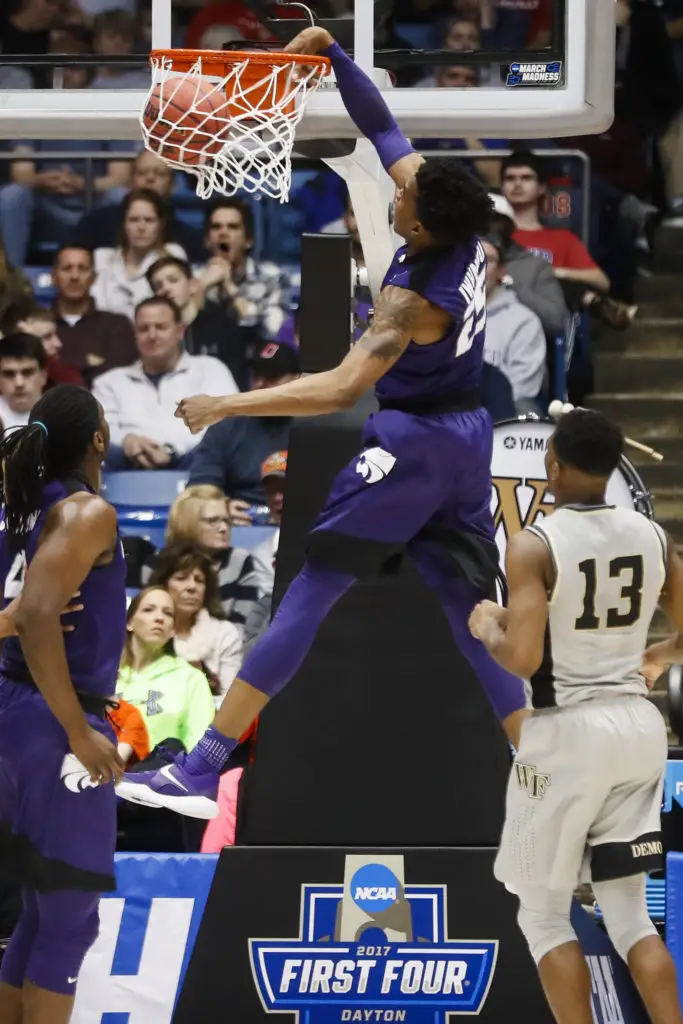 Wildcats will face Cincinnati Friday in the Round of 64
DAYTON, Ohio (AP) — After finally making it into the NCAA Tournament with its offensive balance, Kansas State showcased its array of scorers in the First Four.
Kamau Stokes scored 19 of his 22 points in the second half of a wide-open game on Tuesday night, and the Wildcats' versatility was the difference as they pulled away to a 95-88 victory over Wake Forest.
Eleventh-seeded K-State (21-13) got its first NCAA Tournament win in five years and a trip to play No. 6 Cincinnati on Friday in Sacramento as part of the South Regional. The Bearcats are known for their tight defense.
"It's a good matchup for us," said Wesley Iwundu , who had 24 points. "You know they're a tough team, but we're down for any challenge. We're the underdogs now but we like being the underdogs."
In a matchup of two versatile offenses, the Wildcats had the most options and hot shooters. Four players finished in double figures — their season norm — as the Wildcats shot a season-high 66 percent from the field against a team they had never faced.
"Now you're playing somebody new and maybe you can get some of the little looks that you haven't gotten in probably like the last six weeks," coach Bruce Weber said.
Stokes missed three of his four shots in the first half, but found his touch right away after the break, hitting a pair of quick 3s.
"I think he just needed to shake off his jitters in the first NCAA Tournament game," Iwundu said. "But in the second half, he got back to doing what he does best, hitting some big shots."
Wake Forest (19-14) couldn't keep up during its first NCAA Tournament game in seven years. The Demon Deacons scored 90 points nine times during the season, but couldn't match the Wildcats.
"We came close and then we let them build another lead," said John Collins, who had 26 points and nine rebounds. "So I think it was kind of a trend."
It was a breakthrough season for the Demon Deacons in coach Danny Manning's third season. He led Kansas to the 1988 national championship — Danny and The Miracles, as they're known — by beating K-State along the way. And now he had the Demon Deacons back in the tournament for the first time in seven years.
"For us, it's been a long, eventful season," Manning said.