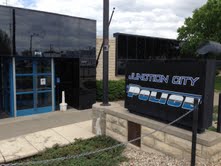 Junction City Police are reporting an injury accident involving a Junction City High School Cross Country team member. The name of the female member of the team injured has not yet been released.
 A news release from JCPD Tuesday indicates the accident occurred shortly before 5 p.m. Monday at the intersection of 5th and Eisenhower in Junction City. When emergency crews arrived, the victim was located with minor injuries. She was transported to Geary Community Hospital where she was treated and released.
The driver of the vehicle was cited for Failure to Yield to Pedestrian in a Crosswalk.