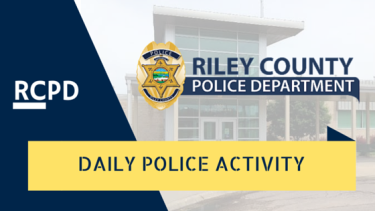 (An involuntary manslaughter case is listed in a separate report)
An injury accident involving an area state representative was reported in the 8000 block of Tuttle Creek Blvd. in north Riley County  at approximately 7:30 PM Saturday. Riley County Police report the accident occurred when a Ford Fusion driven by St. Representative Susan Swanson, 69, of Clay Center turned in front of a Suzuki motorcycle driven by Eldon Picou, 43, of Manhattan, causing the Suzuki to crash.
Swanson was issued a citation for failure to yield. Picou was transported to Via Christi for treatment of his injuries.
###
An arrest has been made in connection with a report of attempted rape in Manhattan Friday evening. Officers listed a 19 year old female as the victim.  Oscar Zapata, 21, of Manhattan, was arrested while at the Riley County Police Department the next day, Saturday at approximately 5:30 PM. Zapata was arrested on charges of aggravated burglary and aggravated sexual battery. Zapata's bond was set at $30,000
###
An apparent tax money scam led to a theft by deception case, reported in the 300 block of Tuttle Creek Blvd. Saturday night at about 7:00. Riley County Police Officers listed Sera Voss, 20, of Manhattan and Citi Bank as the victims when it was reported an unknown suspect scammed the victim after telling her she owed tax money.
The total loss associated with this case is nearly six-thousand dollars. Police ask that anyone with information contact RCPD or the Manhattan Riley County Crime Stoppers, which can allow you to remain anonymous and could qualify you for a cash reward of up to $1,000.