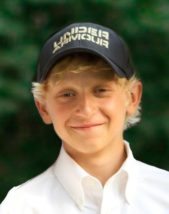 KMAN has confirmed the Rock Creek student who died on September 14th was Parker Greening.
Memorial services will be held on Sunday, October 1, 2017 at 4:00 P.M. at the University Christian Church Family Life Center in Manhattan, Kansas, with Pastor Barry Park officiating.  A private family internment will be held at a later date at the Farmington Cemetery near Abilene, Kansas.
Online condolences may be left for the family through the funeral home website at www.ymlfuneralhome.com.
Memorial contributions may be made to:  The No Stone Unturned Foundation (donated in the name of: Katie's Way/Parker Greening Memorial).  Contributions will used to help support local kids who are unable to afford counseling services.  Donations are to be left in care of the Yorgensen-Meloan-Londeen Funeral Home, 1616 Poyntz Avenue, Manhattan, Kansas 66502.