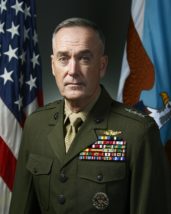 The chairman of the Joint Chiefs of Staff will deliver the first Landon Lecture of the 2017-2018 school year at Kansas State University.
Gen. Joseph F. Dunford Jr. will speak at 10:30 a.m. Monday, Nov. 27, in Forum Hall at the K-State Student Union. This Landon Lecture is free and students, faculty, staff and the public are welcome.
"As a military-inclusive institution with a long history of serving the educational needs of our military members and veterans, as well as their families, and with the strong partnerships we have with both Fort Riley and Fort Leavenworth, we look forward to bringing the nation's highest-ranking military officer to campus for a Landon Lecture," said Jackie Hartman, the university's chief of staff, director of community relations and chair of the Landon Lecture Series.
Dunford became the 19th chairman of the Joint Chiefs of Staff on Oct. 1, 2015. He serves as the principal military adviser to the president, secretary of defense and National Security Council.
Before becoming chairman, Dunford was the 36th commandant of the Marine Corps. He also served as assistant commandant of the Marines from 2010-2012 and was commander of the International Security Assistance Force and Unites States Forces-Afghanistan from February 2013-August 2014.
A graduate of Saint Michael's College, Dunford was commissioned in the Marine Corps in 1977 and has been an infantry officer at all levels. His service includes command of the 2nd Battalion, 6th Marines, and command of the 5th Marine Regiment during Operation Iraqi Freedom. He also served as the assistant division commander of the 1st Marine Division, Marine Corps director of operations and Marine Corps deputy commandant for plans, polices and operations. In addition, he commanded I Marine Expeditionary Force and was commander of Marine Forces U.S. Central Command.
With the Joint Chiefs of Staff, Dunford has served as executive assistant to the vice chairman of the Joint Staff; chief of the Global and Multilateral Affairs Division; and vice director of operations on the Joint Staff.
A master's degree graduate in government from Georgetown University and in international relations from the Fletcher School of Law and Diplomacy, Dunford also is a graduate of U.S. Army Ranger School, Marine Corps Amphibious Warfare School and the U.S. Army War College.