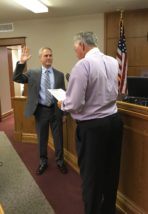 As KMAN previously reported in August, Ness County District Magistrate Judge James R Kepple had been selected to fill a magistrate judge vacancy in Riley County.
As of today, Kepple has been sworn in and his new position has taken effect.
Kepple takes the place of retired Magistrate Jude Sheila Hochhauser, who's retirement sparked the new appointment.  She retired on August 11th of this year and served since 2007.
The 21st district includes Riley and Clay counties.