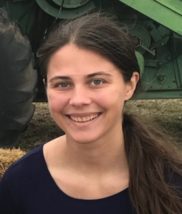 A 1st Infantry Division soldier died in a two-vehicle collision near Fort Stockton, Texas, Saturday, according to a press release from Fort Riley Tuesday.
First Lt. Stephanie Hetland, a chemical officer with Headquarters and Headquarters Company, 1st Brigade Engineer Battalion, 1st Armored Brigade Combat Team, 1st Inf. Div., was driving to her next duty station – Fort Bliss, Texas – when the collision occurred on Interstate 10 about 6.5 miles west of Fort Stockton. The Texas Department of Public Safety is investigating the collision.
"The 1st Brigade Engineer Battalion is deeply saddened by the loss of 1st Lt. Stephanie Hetland," said Lt. Col. Scott Miller, commander of the 1st BEB. "We offer our most sincere condolences to her family and friends. We
will continue to fully support them during this challenging time of grief."
Hetland joined the Army in December 2014 and arrived at Fort Riley in June 2015. She was 26-years-old. Her home of record is Jacksonville, Florida.
She deployed to South Korea in October 2016.
Hetland's awards include the Army Commendation Medal, National Defense Service Medal, Global War on Terrorism Service Medal, Korea Defense Service Medal, Military Outstanding Volunteer Service Medal, Army Service Ribbon and Overseas Service Medal.