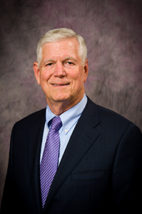 Kansas State University President Richard B Meyers has issued a statement on the recent racist vandalism that occurred on Wednesday
Myers says that he wanted to make sure his message to the student leadership is clear.  His message is to ensure the safety of those affected by the attack.
He then called for the immediate increase of patrols and visible presence on campus by the K-State Police Department .  He also encourages students to take advantage of the safety resources the school provides, as well as the counseling center.
Myers also calls for the Riley County Police Department to use all available resources in its criminal investigation, including state and federal resources.
He ended his statement by asking everyone to reach out to anyone who needs support and be alert for ways to help.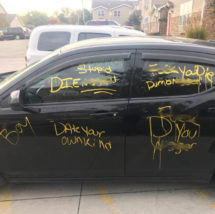 On Wednesday morning, a car belonging A 21-year-old Manhattan man's car was vandalized with racial slurs and threats of violence, harassment and death, according to photos circulated on social media and confirmed by the Riley County Police Department.
You can read the entirety of Myers statement on K-State Today.
Also Thursday 
Manhattan Mayor Linda Morse spoke out on the racial vandalism incident from earlier this week on Thursday, saying while "it is an honor to be Mayor of a diverse, welcoming community like Manhattan," she refers to the reported incident of "disgusting racial slurs" painted on a vehicle, adding that "the behavior reflected in that incident is not the type of action or behavior condoned in Manhattan." 
Morse says this act does not reflect what she believes Manhattan is. Divisive, hateful acts such as this draw out strong emotions from many people. As Mayor, she condemns these disgusting acts and stands ready and willing to meet and discuss these types of issues with the community, University, RCPD, and all those impacted by these events. Mayor Morse also encourages the Manhattan Community to reach out and support diversity and respect for all. Morse concludes by saying she knows there is need for significant improvement and that the community will come together to help make Manhattan a safe, inclusive and respectful place for all.