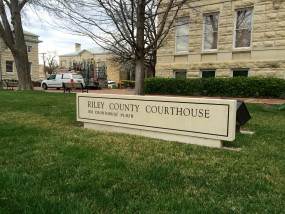 The arraignment of a Manhattan man charged with first degree murder and attempted first degree murder was held earlier than originally scheduled this past Monday. As KMAN previously announced Steven Harris had been scheduled for a November 27th arraignment, but attorneys appeared in Riley County Court Monday and requested the arraignment be moved up and heard that day.
Harris entered a not guilty plea and the jury trial has been set for five days, to begin March 26th of next year in front of Judge Meryl Wilson.
Harris is the suspect in a deadly May shooting in the 2800 block of Nelson's Landing in Manhattan, that resulted in the death of German Gonzalez-Garcia, 39.  Also shot during the incident but surviving was Adrian Ortega.
###
Also Monday, A Lee's Summit man who was scheduled for a jury trial starting Thursday in Riley County Court pled to charges earlier this week in connection with a three county law enforcement chase in February. According to Riley County Attorney Barry Wilkerson, Robert McGinley pled to charges which included not only fleeing and eluding but also aggravated battery and possession with intent to distribute methamphetamine and marijuana. His sentencing has been set for December 18th.
KMAN reported on the chase in February which began in Shawnee County, continuing through Pottawatomie County and eventually entering Riley County. A Manhattan man required treatment after the vehicle he was driving was struck by the Lexus McGinley was driving on Fort Riley Boulevard. McGinley was also injured.
The Rossville Police Department conducted a search of the Lexus and located more than two pounds of meth and one pound of marijuana, as well as $30,000 dollars in cash and two firearms.