Wildcats outscore Bruins 28-0 in the second half
Leading up to kickoff, UCLA quarterback Josh Rosen was the biggest storyline of Tuesday night's Cactus Bowl.
Then, a Kansas State quarterback stole the spotlight. And it wasn't Skylar Thompson.
Behind Alex Delton's dual-threat ability, K-State used a dominant second half to top the Bruins 35-17 at Chase Field and finish the season 8-5.
Delton rushed for 158 yards and three touchdowns in the game, setting a new school record in a bowl game by a quarterback.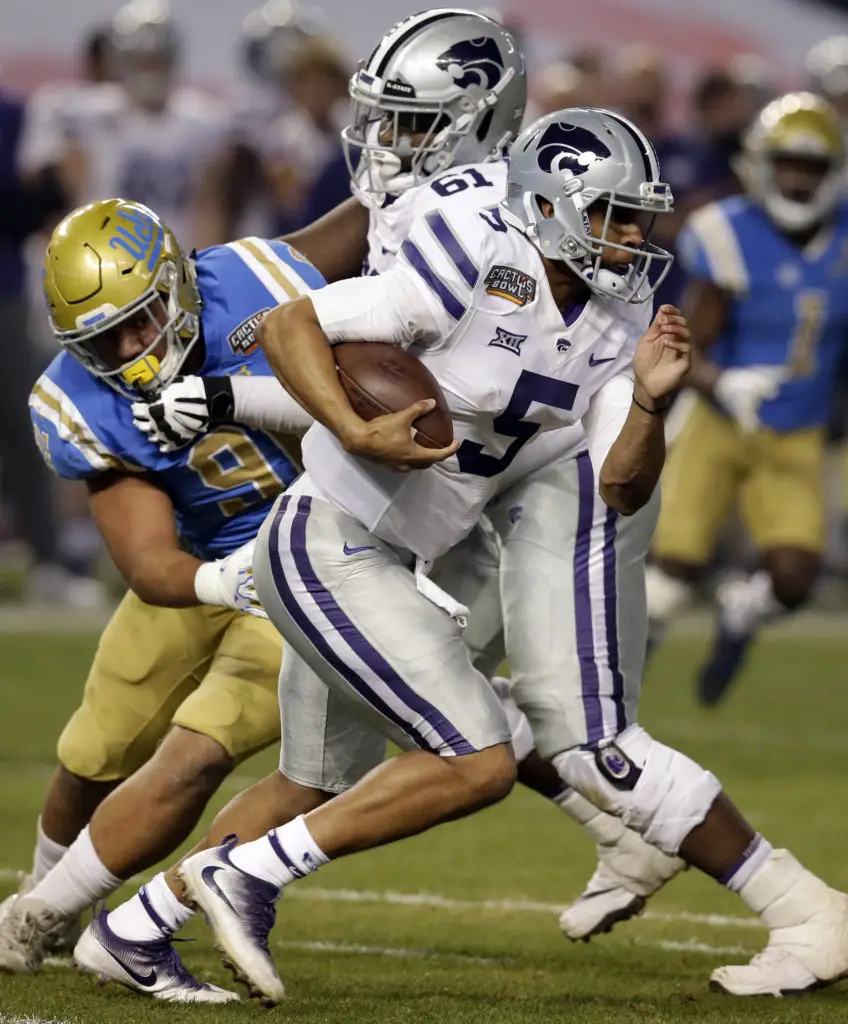 Thompson started the game, but only played two series. It was soon clear that Delton's legs would need to be the difference-maker for the Wildcats. They were.
UCLA's Devon Modster was excellent in the first half, torching the K-State secondary for a pair of long touchdown passes. The Bruins led 17-7 at halftime.
The second half was a complete reversal, however. UCLA's offense stayed on the sideline as Delton and Alex Barnes carried the Wildcats down the field. K-State took the lead for good on an 8-yard pass from Delton to Dominique Heath with 4:22 left in the third quarter.
As a team, K-State rushed for 344 yards, which set a new season-high. In addition to Delton's 158, Barnes tallied 117 and a touchdown on 12 carries.
The Wildcats put the game on ice by driving 98 yards in 8 minutes and 6 seconds to take a 35-17 lead with 4:34 to play.
Defensively, the biggest play of the game came on UCLA's second drive of the third quarter. Denzel Goolsby forced a fumble in Bruin territory. The touchdown pass to Heath happened a few minutes later.
Delton and Goolsby were named the offensive and defensive MVPs of the game, respectively.
UCLA (6-7) had the ball for only ten minutes in the second half.
The victory marked K-State's second straight bowl win. That had not happened since 1999-2000, when the Wildcats won the Holiday Bowl and Cotton Bowl in successive years.