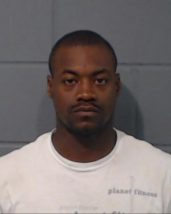 A Grandview Plaza man has been sentenced to more than 13 years with the Kansas Department of Corrections for rape, aggravated battery, and aggravated assault. Luis Caicedo-Mosquera was sentenced Monday in Geary County Court to 165 months, with lifetime post release and life-time sex offender registration.
Caicedo-Mosquera was arrested in August of 2016 after Junction City Police and emergency medical personnel were dispatched to the Budget Host Motel on South Washington Street and found Karlie Jones, 19, of Wichita with a stab wound to the chest. Caicedo-Mosquera was identified as the suspect and later located. Investigators at the time indicated the victim and suspect had been communicating via internet in reference to adult escort activities.
Caicedo-Mosquera entered a plea to the rape and other charges in September of this year.He was originally charged with attempted murder.