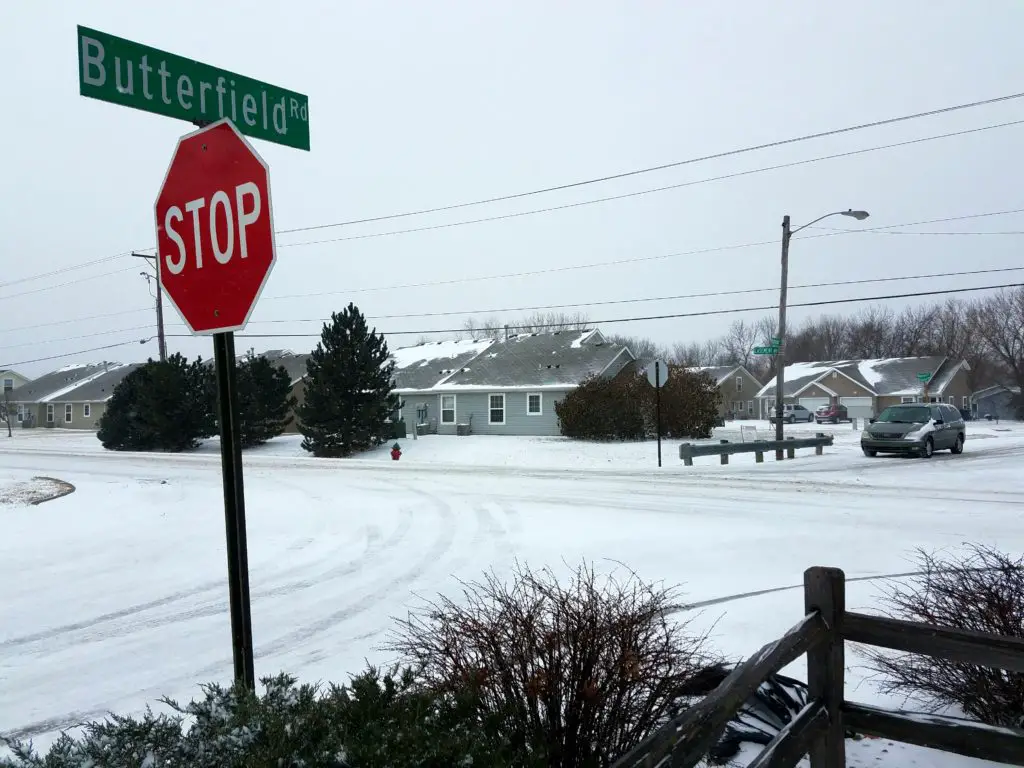 Early morning patches of ice and blowing snow throughout the morning closed several schools Thursday in the KMAN listening area.
Manhattan-Ogden USD 383 canceled classes Thursday, along with Junction City, Wamego and Rock Creek school districts. Rile County government offices were also closed Thursday.
Sunset Zoo in Manhattan also closed for the day. A full list of closings and cancellations can be read here.
The Geary County Sherrif's Office said Thursday morning it is under emergency accident reporting protocol.
The Geary County Sheriff's Department will not respond to non-injury accidents when the vehicles are operable. Drivers should move to a place of safety and exchange personal and insurance information and report the accident to their insurance company as soon as possible. File a report when there is property damage over $1,000 with the appropriate Law Enforcement agency within 48 hours.  All injury accidents and accidents that block the street due to disabled vehicles should be reported to law enforcement. Law enforcement and needed emergency personnel will respond. As soon as caseload permits, the sheriff's department will go back to normal report taking.
A winter storm warning is in effect until noon for portions of central Kansas. Winter weather advisory is in effect until noon for east central Kansas, north central Kansas and northeast Kansas. The heaviest snow should fall mainly west of a Hiawatha to Council Grove line. Expect heaviest snow and blowing snow with total snow accumulations of 2 to 5 inches just west of Topeka. Wind blowing snow at 45 mph will reduce visibility though snow may not be as deep from Topeka eastward, a layer of ice is making travel treacherous.
The Kansas Division of Emergency Management is reminding Kansans that road travel is discouraged during extreme winter storm situations, particularly when there is an icy build-up on roads. However, if you must travel, there are some precautions you should take to keep yourself and your family safe. Keep at least a half a tank of gas in your car at all times in case you get stranded or stuck in traffic. Arrange your travel plans to leave well ahead of bad weather and let someone know your itinerary and expected arrival time. Make sure your cell phone is charged so you can alert them should you be delayed.
Information on winter driving tips is available from the Kansas Highway Patrol at www.kansashighwaypatrol.org/259/Winter-Driving-Tips.
If you must travel, get the latest road information from the Kansas Department of Transportation by calling 5-1-1 or visiting the KanDrive website at kandrive.org. To find information on road conditions when not in the state, call 1-866-511-5368.
For a complete list of items for a home or car emergency kit and for other helpful preparedness information, go to www.ksready.gov.
Outdoor pets are especially vulnerable to bitter cold and extreme wind chills. Bring outdoor pets inside if possible or ensure that they have a draft-free enclosure with straw-type bedding that is large enough for your pets to lie down, but small enough to hold in body heat if they must remain outside. Always make sure that your pets have access to food and non-frozen water.