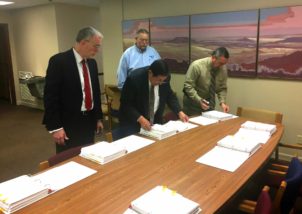 The emergency radio system upgrade for Riley County first responders and police was approved and signed during Thursday's county commission meeting.
Commissioner Ron Wells made the motion to sign the approximately $10 million radio upgrade. The base cost for covers $5 million of the agreement with the remaining being paid for over 15 years. Chairman Marvin Rodriguez gave his thanks for all those involved in the process.
"This was not an easy thing and I think it's a big step for us and I think it will give us what we need in the county," said Rodriguez, "You can't put a price on life and this I think is going to solve our problems."
Emergency Management Director Pat Collins said it will cover around 98-99% of the time and that there is no way they can make sure on private property that it will work in say a basement. He said this a huge step in saving lives around the county.
While the board approved and signed the agreement, one more look over of the contract will be done before sending in the final agreement.