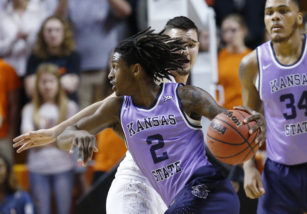 A balanced offensive effort from the opening tip was the story as Kansas State continued to play well on the road Wednesday night, winning 82-72 at Oklahoma State.
The Wildcats used a big run late in the first half to open a double-digit lead and OSU would get no closer the rest of the way. The lead was as large as 20 in the second half.
Barry Brown led four Wildcats in double figures with 25 points. Xavier Sneed added 13 and Dean Wade had 12.
K-State (18-8, 7-6 Big 12) also received a solid contribution from Kamau Stokes, who reached double figures for the first time since returning from a foot injury two weeks ago.
OSU (15-11, 5-8) shot below 30 percent from the field in the first half, with a lot of the Cowboys' misses turning into transition opportunities for K-State at the other end. Kendall Smith led the Cowboys with 16 points.
The Wildcats took good care of the ball, committing just eight turnovers one game after recording 18 in an ugly loss to No. 7 Texas Tech last Saturday.
K-State had an answer every time OSU made a small push. Some of those answers came from unexpected places, as Levi Stockard scored a career-high eight points.
K-State has won three of its last four road games, which has allowed the team to tread water in most NCAA Tournament projections despite lackluster performances at home. Next up for the Wildcats is a home game against last-place Iowa State on Saturday.