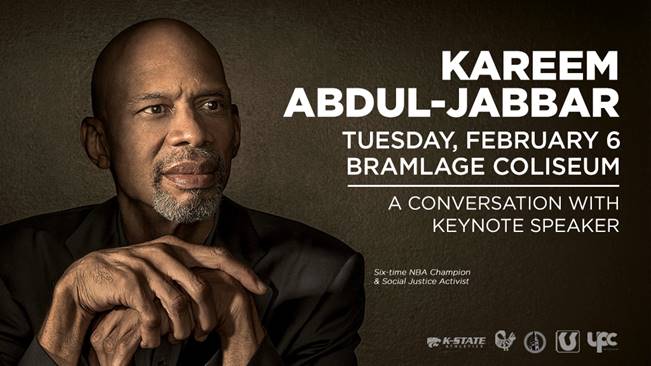 Basketball legend Kareem Abdul-Jabbar will be in Bramlage Colisuem Tuesday night.
Bringing the six-time NBA Champion and Lakers great to the Little Apple was a collaborative effort between the K-State Black Student Union, Student Govering Association, Union Program Council and Athletics Department.
The special event, which is free and open to the public thanks to funding provided by SGA through its Diversity Program Council funds, will begin at 7 p.m. and will feature an interview and question-and-answer format. Abdul-Jabbar, one of the most influential and respected black men in America, is expected to address many topics including social justice, sports and his personal testimony.
Abdul-Jabbar, who converted to Islam in 1968 and boycotted the Olympics due to the treatment of African-Americans, is the NBA's all-time leading scorer and maintains a national platform as a regular contributing columnist for The Washington Post and Time Magazine, where he shares his thoughts on some of the most socially relevant and politically controversial topics facing the nation today. After 50 years as an athlete, activist, and New York Times best-selling author, he offers his perspectives as a nationally recognized speaker who regularly appears on the lecture circuit. His new political book, Writings on the Wall – Searching for a New Equality Beyond Black and White was released Fall 2016 by Time Books and offers his personal perspectives on political issues facing America today.
Currently Abdul-Jabbar serves as the chairman of his Skyhook Foundation whose mission is to "Give Kids a Shot That Can't be Blocked" by bringing educational STEM opportunities to under-served communities through innovative outdoor environmental learning.
Tickets are still available at the K-State Ticket Office till 5 p.m. Abdul-Jabbar will speak at 7 p.m.