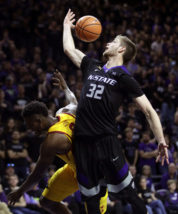 MANHATTAN, Kan. (AP) — A week ago, in the same arena, the Kansas State Wildcats were tied at the half with Texas Tech and could not close the deal. They were presented with the same opportunity on Saturday this time they did close the deal.
Dean Wade nearly grabbed a triple-double in Kansas State's 78-66 victory over Iowa State.
"We were in the same situation last week, against Texas Tech," Kansas State head coach Bruce Weber said. "I said to the guys during halftime, `What's your dreams? What're your goals and what's your vision? Don't let them (Iowa State) take that from you."
Wade shot 9 of 13 for 22 points while grabbing eight rebounds and collecting nine assists.
"I think I played well," Wade said. "My teammates played great and that allowed me to play well. I was feeding off of their energy. It was an overall good game for us."
After a deadlocked 33-33 halftime score, the Wildcats (19-8, 8-6 Big 12 Conference) exploded for 45 second-half points on 17-of-29 shooting. Joining Wade in double-figure scoring was Barry Brown, who scored 16 second-half points for a total of 20, and Xavier Sneed, who scored 17 points on seven shots.
"It is tough when we are all scoring for a team to adjust. They cannot just help off one man and leave another one open," Brown said.
"We had X (Xavier Sneed) hitting threes. I even hit a few. When we are all attacking and making the right read and finding the right person it is tough to scout."
After a slow start, Iowa State (13-13, 4-10) managed to get the game close and tied it several times but could not ever capture the lead.
Cameron Lard scored 15 points on 7-of-12 shooting for the Cyclones.
BIG PICTURE
Kansas State: The win against Iowa State pushes the Wildcats to 19 wins and they are two wins away from matching last season's win total.
Iowa State: The loss by Iowa State will guarantee that the Cyclones will have a losing conference record for the first time in three seasons under coach Steve Prohm.
THEY SAID IT
"The frustrating thing is that it is the same stuff. I can sit up here and give you all a bunch of stuff but it is the same stuff. Look at our second-half defensive stats in the majority of our road losses in conference play. It is horrendous. What did they shoot in the second half? Sixty percent?" — Iowa State head coach Steve Prohm on his team's second-half performance on defense.
STATS AND STREAKS
The win over Iowa State is the first win at home for Kansas State during February.
UP NEXT
Iowa State: Iowa State hosts TCU on Wednesday.
Kansas State: Kansas State hosts Texas on Wednesday.