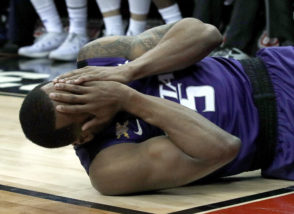 Hours before tipoff of Friday night's Big 12 semifinal, Kansas State learned it would not have its best player on the court. Just two minutes into the game, the Wildcats' second-best player went down as well.
That left Bruce Weber's team without 45 percent of its offensive production against a potential one-seed in the NCAA Tournament. Against long odds, K-State fought. They were just outgunned.
No. 9 Kansas topped the Wildcats 83-67 at Sprint Center to advance to Saturday's title game.
Dean Wade missed the game with a foot injury he aggravated in Thursday's win over TCU. The All-Big 12 First Team selection spent the game in a walking boot on the bench.
In the opening minutes, Barry Brown collided with KU's Devonte Graham and collapsed to the floor holding his face. He went to the locker room and returned several minutes later with his right eye swollen shut. He would not return.
That left Makol Mawien as K-State's best option on offense, and he delivered to the best of his ability. Mawien scored a career-high 29 points on 13 of 19 shooting. He was dominant in the paint and avoided foul trouble.
But he needed help.
KU (26-7) led by as many as 16 early in the second half, and the resilient Wildcats (22-11) battled their way back within two points before the Jayhawks pulled away down the stretch.
Xavier Sneed added 12 points, six rebounds and five assists, but was the only other Wildcat in double figures.
KU was led by Malik Newman, who scored 22 points and hit five three-pointers.
The Wildcats are all but guaranteed a bid to the NCAA Tournament and will spend the next two days attempting to get healthy before Selection Sunday, when the bracket is announced.