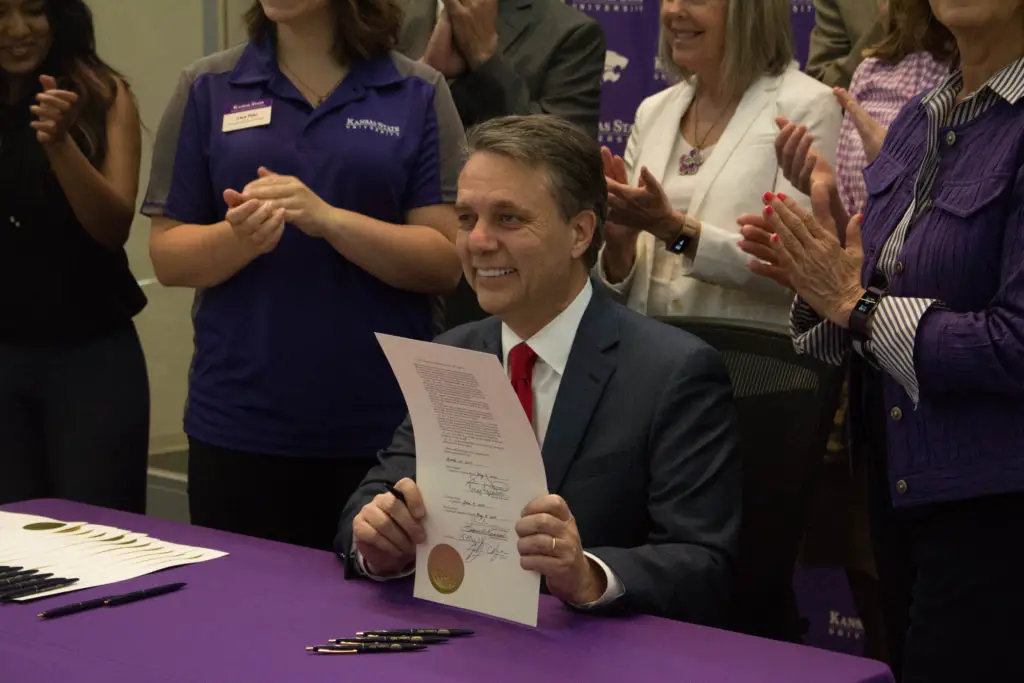 Gov. Jeff Colyer traveled to Kansas State University on Tuesday to sign House Substitute for Senate Bill 109. This is the supplemental appropriations passed by the legislature that includes $15 million restoration for higher education across the state. The money will be spread out over multiple platforms including universities and technical colleges.
"This is a very important day for us," Colyer said. " This is making sure we have adequate funding for our higher education, making sure that we are moving jobs in the state of Kansas, that's what this is about. Budget is tight, but we are making important investments in the right places."
Roughly $3 million in funding will be restored for K-State. However, the university announced Thursday it would be cutting its budget by $15 million next year.
There were many representatives and education members at the ceremony Tuesday; Blake Flanders, President and CEO of the Kansas Board of Regents; Dennis Mullin, Vice Char of the Kansas Board of Regents; K-State Presdient Richard Myers, as well as Student Body Vice President Lacy Pitts who sat at the front of the room with Colyer.
"Parents are begging us to keep tuition affordable," Flanders said before the signing. "Our best chance at prosperity is to keep education affordable."
This bill will be spread across 19 regents schools according to State Rep. Sydney Carlin of Manhattan.
"I would be remiss if i didn't use this opportunity to broaden this look and ask for help," Mullin said. " This is just an eye dropper and not the faucet."