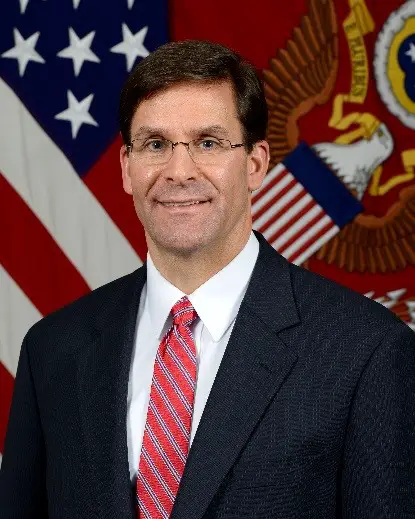 The secretary of the U.S. Army will visit Fort Riley Friday, meeting with 1st Infantry Division leaders and interacting with Big Red One soldiers, according to a press release from the army post.
Mark T. Esper, the 23rd secretary of the U.S. Army, was sworn in on Nov. 17, 2017. As secretary, he has statutory responsibility for all matters relating to the U.S. Army, to include the recruitment, organization, training, equipping and care of 1.4 million active duty, National Guard and Reserve soldiers, Department of the Army civilians and their families.
Esper previously served as senior executive at the Raytheon Company as vice president of government relations and was the national security advisor for former Sen. Bill Frist, Senate majority leader from 2003-2007.
He graduated from the U.S. Military Academy in 1986 and received his commission in the Infantry. Upon completion of Ranger and Pathfinder training, Esper served on active duty for more than decade, including service in the 1990-1991 Gulf War with the 101st Airborne Division. He later commanded an airborne rifle company in Europe. Following active duty, he served in both the Virginia and District of Columbia National Guard and Army Reserve before retiring in 2007.
Esper's priorities for the army include readiness, modernization, reform, people, values and partners and allies.