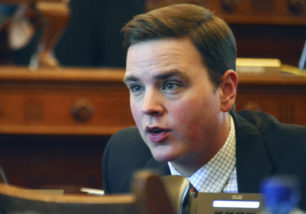 WICHITA — A federal judge has delayed the trial of a Sedgwick County commissioner accused of misspending more than $10,000 in campaign funds and trying to cover it up.
The jury trial of Michael O'Donnell that had been scheduled for July 10 has been continued to Sept. 18 in federal court in Wichita. The unopposed change was requested by his defense attorney because he already had another trial scheduled on that initial week and needed more time to prepare pretrial motions.
O'Donnell has pleaded not guilty to a 12-count indictment alleging fraud and money laundering.
Prosecutors say the 33-year-old Wichita man took $10,500 from campaign accounts to put into his personal bank account and to give to friends, then filed false reports with the Kansas Governmental Ethics Commission.