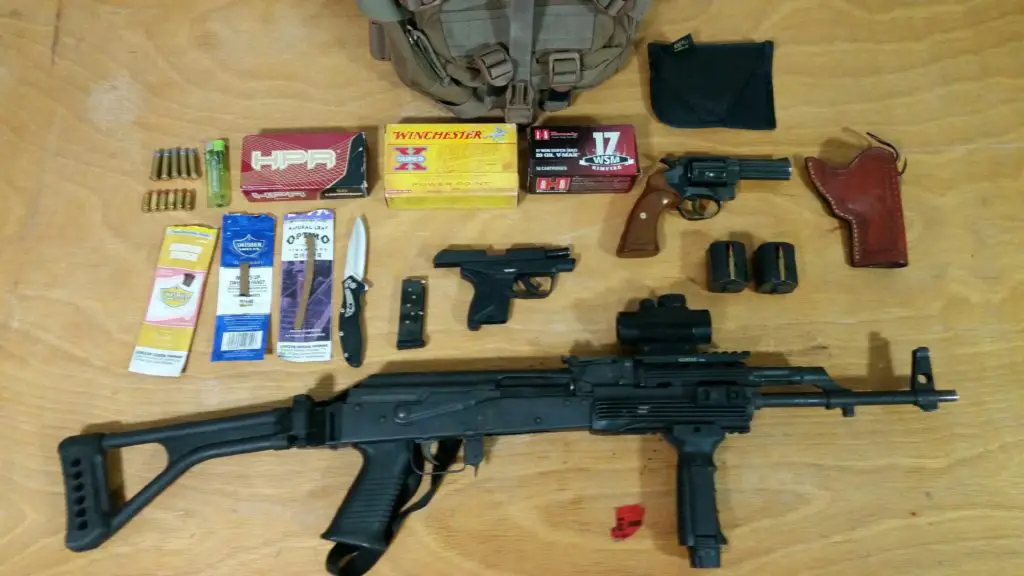 Two juveniles with several weapons, including an AK-47 rifle, were arrested Monday afternoon in Saint George.
Chief of Police Dan Trechter told KMAN Tuesday afternoon the juveniles were identified as a 16-year-old white male and a 17-year-old as a black male.
According to a press release from the department, authorities say at 12:13 p.m. a call came into the Saint George Police Department in reference to two suspicious juveniles in the 100 block of Wildcat Way in Saint George. Upon arrival, an officer met with the reporting party who observed two male juveniles hide a duffel bag in a tree line containing an AK-47 rifle. After obtaining a description of the juveniles officers located them in the 200 block of East First Street as they were walking into Saint George City Park.
Both suspects were detained and during that process, a loaded, stolen firearm was found concealed on the 16 year-old suspect. Upon searching the 17-year-old male suspect marijuana was located.
Both juveniles were transported to the Pottawatomie County Sheriff's Office for further processing and later confined at the North Central Kansas Regional Juvenile Detention Facility in Junction City.
Police said after an extensive investigation it was discovered the AK-47 rifle had been stolen earlier in the day from an unreported residential burglary that occurred in Saint George. Through further investigation another stolen handgun and miscellaneous ammunition was recovered from the 16-year-old suspect's residence.
The 16-year-old suspect was arrested on charges that included criminal carry of a weapon, two charges of possession of stolen property, criminal use of weapons, theft, burglary and the defacement of identification marks on a firearm.
The 17-year-old suspect was arrested for marijuana possession.
Trechter added the charges should be taken at "face value" and hesitated on speculating any motives.
"We really don't know anything as far as intent," he said. "It is concerning, but the important thing is that we got those firearms in our possession."
Trechter said both fully cooperated with authorities and that the loaded gun found on the 16-year-old had its serial number removed. The other weapons had their I.D. markings. Trechter added that the 16-year-old's home was searched with consent.
Both juveniles are residents of Saint George, according to police, and their names will not be released due to their juvenile status. Trechter said one of the males, the 17-year-old, was known to authorities.
Trechter thanked the community for being alert.
"Luckily we had a concerned citizen that happened to be home and saw something suspicious and reported to us," he said.
Police ask that If anyone in Saint George has been the victim of a burglary and not reported it, to please contact the department at 785-494-2556 to get your report on file.
Police say this is an ongoing investigation.