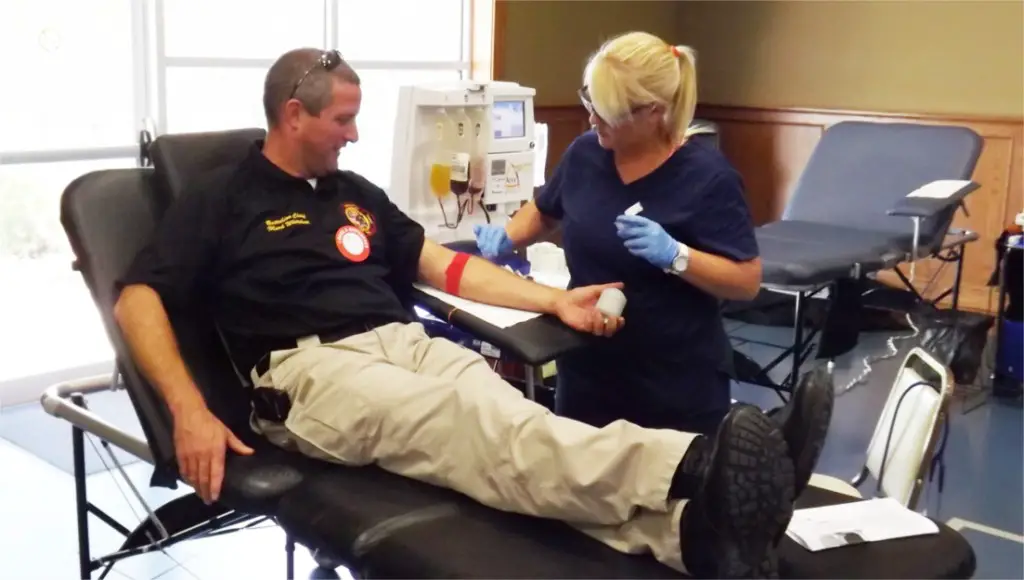 With lights flashing and sirens blaring, Manhattan and Riley County fire, police and emergency medical services personnel often arrive first at emergencies, always ready to help. These local first responders will help ensure blood is available during medical emergencies by partnering with the American Red Cross for the 15th Annual Battle of the Badges Blood Drive, according to a press release.
During the Battle of the Badges Blood Drive, the Manhattan Fire Department, Riley County EMS and Riley County Police Department personnel will compete to see who can recruit the most blood donors. Everyone who comes to give blood can cast a vote to determine who will win this year's bragging rights.
"Thanks to these first responders for not only keeping the community safe, but also helping with blood collection this summer," said Kristi Ingalls, Central Pains Blood Services Region account manager. "The Battle of the Badges Blood Drive offers a way for Manhattan residents to support our local heroes and help save lives by giving blood."
The drive runs Monday from 11:30 a.m. to 6:30 p.m. and Tuesday from 7:30 a.m. to 1:30 p.m., both at St. Thomas More Church in Manhattan on 2900 Kimball Ave.
This blood drive comes as the Red Cross faces an emergency blood shortage and is issuing an urgent call for blood donors to give now so patients can continue to receive the lifesaving treatment they need. Right now, blood products are being distributed to hospitals faster than donations are coming in. More donations are immediately needed to help replenish the blood supply.
To make an appointment for the 2018 Manhattan Battle of the Badges, download the Red Cross Blood Donor App, visit RedCrossBlood.org or call 1-800-RED CROSS (1-800-733-2767) and use sponsor code "ManhattanKS."
How to donate blood
Simply download the American Red Cross Blood Donor App, visit RedCrossBlood.org or call 1-800-RED CROSS (1-800-733-2767) to make an appointment or for more information. All blood types are needed to ensure a reliable supply for patients. A blood donor card or driver's license or two other forms of identification are required at check-in. Individuals who are 17 years of age in most states (16 with parental consent where allowed by state law), weigh at least 110 pounds and are in generally good health may be eligible to donate blood. High school students and other donors 18 years of age and younger also must meet certain height and weight requirements.
Blood and platelet donors can save time at their next donation by using RapidPass® to complete their pre-donation reading and health history questionnaire online, on the day of their donation, before arriving at the blood drive. To get started, follow the instructions at RedCrossBlood.org/RapidPass or use the Blood Donor App.
About the American Red Cross
The American Red Cross shelters, feeds and provides emotional support to victims of disasters; supplies about 40 percent of the nation's blood; teaches skills that save lives; provides international humanitarian aid; and supports military members and their families. The Red Cross is a not-for-profit organization that depends on volunteers and the generosity of the American public to perform its mission. For more information, please visit RedCross.org or CruzRojaAmericana.org, or visit us on Twitter at @RedCross.