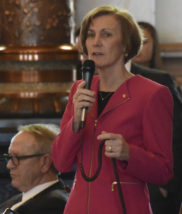 TOPEKA — The Kansas Senate's top Republican has stripped a fellow GOP senator of a committee leadership post for publicly expressing support for two Democratic candidates.
Sen. Barbara Bollier of Mission Hills on Wednesday lost her position as vice chairman of the Senate Public Health and Welfare Committee after endorsing Democrat Tom Niermann in the 3rd Congressional District race in the Kansas City area. Niermann is one of six Democrats hoping to challenge Republican incumbent Kevin Yoder.
Bollier previously said she would support Democratic state Sen. Laura Kelly of Topeka for governor if Kelly wins the Aug. 7 primary.
Senate President Susan Wagle of Wichita accused Bollier of betraying fellow Republicans and called the endorsements "embarrassing."
Bollier told The Topeka Capital-Journal that she is considering leaving the GOP to become an independent.