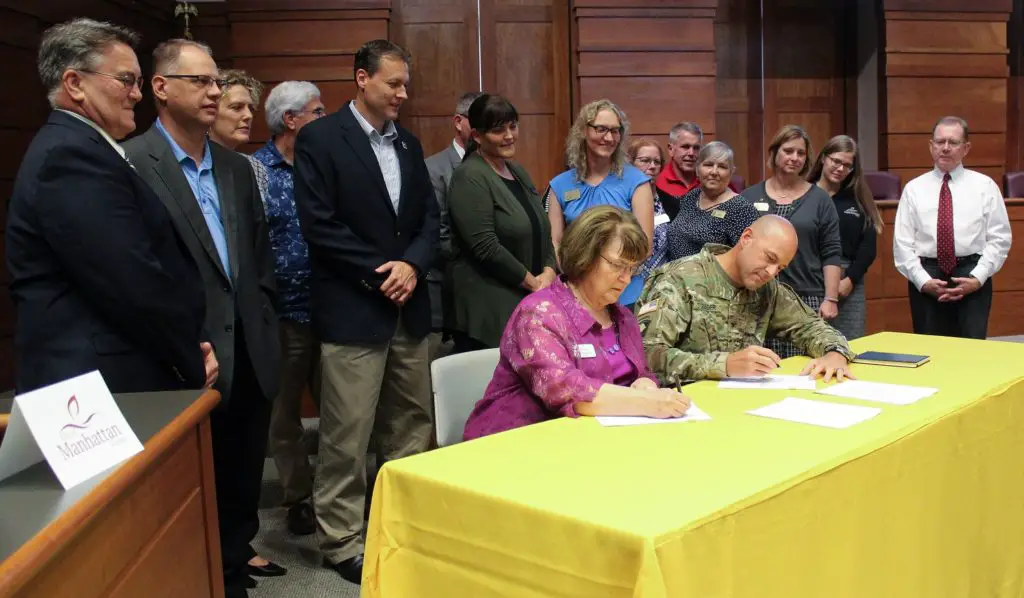 Fort Riley Garrison Commander, Col. Stephen Shrader and Manhattan Mayor Linda Morse signed an InterGovernmental Support Agreement inside City Hall Tuesday afternoon. According to a news release from the city, the agreement is the first of its kind between the two agencies and represents many months of planning and discussion.
The purpose of this IGSA is to reduce costs for the yearly purchase of bulk salt used in winter months to treat roadways in Manhattan and on Fort Riley. The agreement will require the City to procure bids and purchase bulk salt that will be delivered to both locations. The City of Manhattan will invoice Fort Riley for their portion plus an administrative fee of 3% of the total cost of the product delivered to Fort Riley. This partnership is estimated to save Fort Riley roughly $89,000 per year over their previous procurement methods.
As part of the agreement, the City will be allowed to use excess salt reserves from Fort Riley if needed. In severe winter conditions, additional salt purchases may not be available as suppliers provide salt first to the Kansas Department of Transportation, then to local jurisdictions. Building additional salt storage facilities, which would allow for greater emergency reserves, would be costly for the City. However, Fort Riley has a large amount of available space and typically keeps three years of salt reserves on hand. Each ton of salt used by the City in an emergency situation would be replaced.
"To our knowledge this is the first ever commodities procurement Intergovernmental Support Agreement in the Army. This is a testament to the innovation, persistence, and strong relationships that exist in the Flint Hills between Fort Riley and our surrounding communities." says Col. Shrader.
"The City of Manhattan truly values our partnership with Fort Riley and this agreement is a win-win for both of us." says Mayor Morse.
Manhattan City Commission approved the execution of the Intergovernmental Support Agreement with Fort Riley at the Aug. 7 commission meeting.