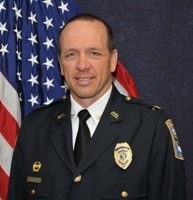 Riley County Police Department Director Brad Schoen was injured in a vehicle-bicycle collision while riding his bicycle south of Manhattan Tuesday afternoon.
Schoen, avid bicyclist, and the car collided in the 2700 block of Moehlman Road just before 1 p.m. A minivan driven by Rafael Cuevas Huerta pulled out of a private driveway and did not yield right-of-way — resulting in the collision.
Schoen was transported to Via Christi Hospital for treatment and his injuries are not considered life-threatening according to a source within the RCPD. He was wearing a helmet, gloves and protective glasses at the time of the collision.
Kansas Highway Patrol Public Information Officer Ben Gardner said Schoen was alert and talking when they arrived on scene and suffered a shoulder injuries as well as cuts to his face.
The incident is still under investigation by KHP. Gardner said it has not yet been determined if any charges will be filed. No further details are available at this time.