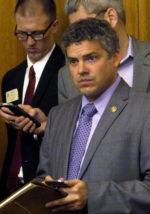 TOPEKA — The Kansas Republican Party will be getting a new chairman in February.
State GOP Chairman Kelly Arnold has announced that he will not seek a fourth, two-year term after serving six years as the Kansas party's top official. The Republican State Committee will name his successor during the party's next statewide convention.
Arnold began as chairman in 2013 with the GOP, which had won all statewide and congressional races starting in 2010. The party extended the streak through the 2016 election, with then-Gov. Sam Brownback and U.S. Sen. Pat Roberts winning tough re-election races in 2014 and U.S. Sen. Jerry Moran easily winning re-election in 2016.
That streak ended when Democratic state Sen. Laura Kelly won the governor's race this year.
Arnold has served as Sedgwick County's elected clerk since 2009.