Dennis Butler addresses the audience at his swearing-in ceremony, Dec. 31 2018 (Nick McNamara/KMAN).
When Dennis Butler came to Ottawa, Kansas after 25 years of service with the Alexandria, Virginia Police Department, he says he didn't expect to move again in his career. 14 years later, his career has taken a different turn as Butler was sworn in as the 5th Director of the Riley County Police Department in a ceremony in the Riley County Courthouse on Monday.
"I look forward to working with all of you with the goal of providing ethical, professional and compassionate service to this community," Butler said.
Butler was chosen after a 10 month search conducted by the Riley County Law Enforcement Agency Board and a selection committee, which included a short period where Butler withdrew from consideration. Prior to being named RCPD director, he was the chief of the Ottawa Police Department and had previously reached the rank of captain in Alexandria. Butler succeeds former Director Brad Schoen, who recently retired after 35 years with the RCPD.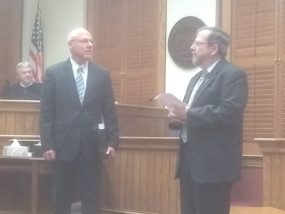 Butler took time during the ceremony to honor 25 fallen officers from Riley County, Franklin County, and the City of Alexandria, Virginia — the locales where he has spent his law enforcement career. He went on to say he "couldn't be happier" to be here and that he's received an "overwhelming" welcome from the department as well as the community. Butler also gave his first impressions of the department and the people that will now be working with him.
"They're all very well trained, committed people, the department seems to be well-resourced," Butler said. "The training they've had is just amazing, stuff that I haven't seen before that I'm very excited about."
While Butler says he needs some time to get acclimated with the department and the community before laying down any concrete ideas on how to build on Schoen's work, he shared some initial thoughts on how he'd like to move forward.
"There are some things I plan to be doing in terms of surveying the members of the department — at some point surveying the community — using those results to maybe adjust the goals and objectives we already have, some may match the current goals and objectives," Butler said.
He says there may be a steep learning curve in the job and asked the community to have patience as he gets up to speed.
"I promise you I will get there, it's just going to take some time," said Butler. "[P]robably where my steepest learning curve is is the correctional facility, so I've already spent a lot of time there talking to the correctional officers and the supervisors."
Butler says he also plans to spend time in the beginning of his tenure attending commission meetings around the county to allow residents a chance to get to know him better.
U.S. Senator Jerry Moran attended the ceremony. Moran says he has known Butler probably for as long as he was in the U.S. Senate, dating back to Butler's time in Ottawa.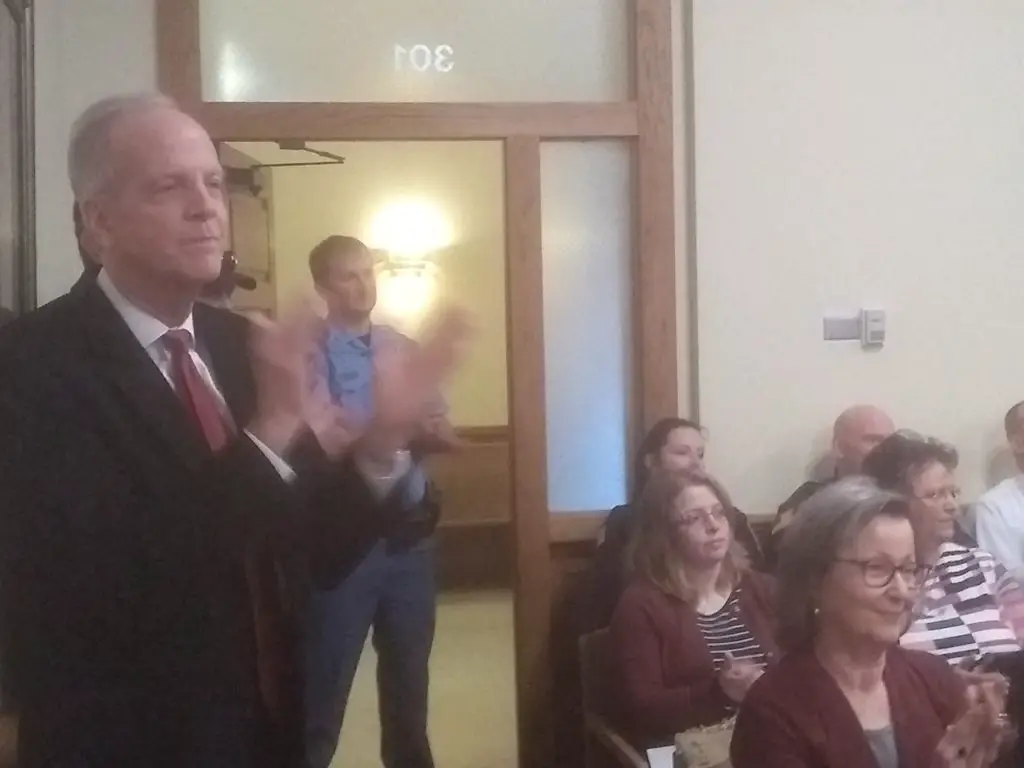 "I chair the Appropriations Committee that funds the U.S. Department of Justice and involves all of the grant money that comes to local law enforcement, so he's been a source of information for me," said Moran. "I welcome him to my home community and I ask the community to give him great support as well as all of our law enforcement officials here in Riley County."
Manhattan Mayor and Law Board member Mike Dodson was a part of the search process and was also present for the ceremony. He says Butler was the clear favorite of all the candidates.
"We're very happy he's here and glad this process came to a successful conclusion," Dodson said.
Manhattan Mayor Pro Tempore and former Law Board member Usha Reddi also took time to speak at the ceremony, congratulating Butler on his new position.
"It was great to be a part of the process and to watch your interview," Reddi said. "There were a lot of community members that spoke on your behalf and that was very impressive. Your skillset was impressive and we look forward to working with you."
Butler ended his remarks during the ceremony by asking the community to continue their support for RCPD and its officers.
"Remember that they are fallible human beings who will sometimes fall short of your expectations, as will I," Butler said. "But when that happens, just know that i'm always going to strive to address those issues in a positive way — and the goal is for us to move forward, learning from those lapses so we can be continual learners and provide the best possible service to all of you."