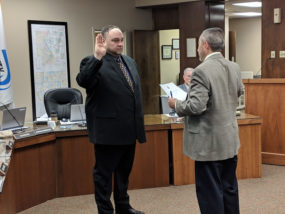 Newly elected Riley County Commissioner John Ford was sworn in to his new position on Monday, along with four county judges.
Ford will be taking over the District 1 seat previously held by Ben Wilson for the next four years.  He said he is honored to be on the commission and is looking forward to working with the county and city, since most of his district is in Manhattan.
The commission also changed roles for the positions of Chairman and Vice Chairman.  Commissioner Marvin Rodriguez, who previously held the Chairman position, will be taking over as the Vice Chair position previously held by Wilson.  Commissioner Ron Wells will be taking over as Chairman.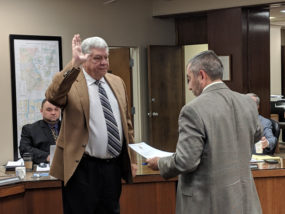 County judges sworn in during the meeting include Division I Judge John Bosch, Division II Judge Meryl Wilson, Division III Judge Grant Bannister, and District Magistrate Judge James Kepple.  All four are renewing their terms.
Also during the meeting, commissioners looked over whether or not to delay the Fancy Creek Bridge Project to November instead of April.
Public Works Director Leon Hobson said they considered the option due to a public meeting where most in attendance wanted a later date to finish in the summer.  He also added the contractor would dictate the starting date, not the county, and that the contractor would charge more money.
"We asked them what kind of problems would arise from the delay and the answered with potential rise in costs," said Hobson, "They came up with an estimate of anywhere between $69,000 to $90,000."
Some county residents affected by the project were present at the meeting and shared concerns of the construction's impact during burning season. But Hobson countered saying if they started in November, the construction would still impact next year's burning season.
The commissioners decided to keep the start date for April 1st.