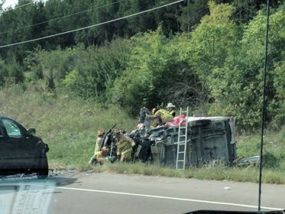 The Riley County commissioners on Monday heard a report from the Riley County Police Department on vehicle accidents in Riley County for 2018.
In the report, presented by RCPD Captain Richard Fink, the RCPD has been able to keep the number of accidents down from their 2018 goal of 13 accidents per one thousand people.  Fink said it was close, but they still came in under.
"Overall it was a good year and will hopefully continue to stay below that 13-1," said Fink, "It was a risky goal for us because the numbers had been climbing year after year."
Fink said they don't have an exact reason as to why these numbers were down, but can attribute them to their accident reduction programs.  These programs include the traffic enforcement areas they post around town.
He also added that the worst time to be driving around in the county is between 3 p.m. and 6 p.m. on Fridays.  The chances of getting into an accident are doubled between this time.  Fink said 32% of the accidents that occurred last year happened around 5 p.m. on Friday.
The number of fatalities that occurred due to vehicle accidents last year was 4, with 3 of them being on US-Hwy 24/Tuttle Creek Boulevard heading North.
Fink said the top five causations of accidents were DUI, improper lane change, following too close, failed to yield, and inattention.
Also during the meeting, Riley County Fire Chief Pat Collins asked to table the approval for the vendor of the fire station projects.  He said they are still waiting on a response from the USDA on whether they can select a vendor ahead of time meets their approval.  They hadn't gotten a response to an email they had sent in December due to the government shutdown.  The commissioners agreed to bring back after the USDA approval.