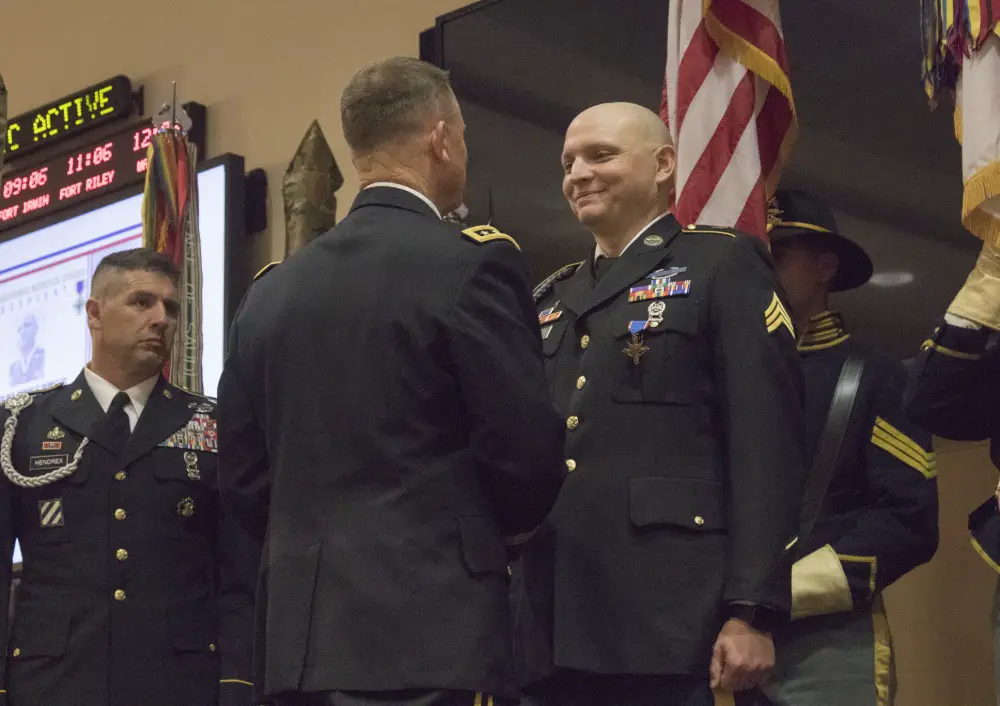 A retired Big Red One soldier earned the Distinguished Service Cross for the first time in 49 years for his actions during a 2008 Afghanistan deployment. Gahanna, Ohio-native Sgt. Robert received the honor in a ceremony at Fort Riley Thursday, March 28.
The Distinguished Service Cross is the second highest Army award below the Medal of Honor. It's awarded for "extreme gallantry and risk of life in actual combat with an armed enemy force." Debolt had previously been awarded the Silver Star, which is now upgraded to the Cross.
"I would take a bullet or take a burn for any of them guys," Debolt says. "I just didn't think about myself, I just wanted to make sure they were okay."
Debolt was deployed with the 2nd Battalion, 2nd Infantry Regiment, 3rd Brigade Combat Team, 1st Infantry Division in September of 2008. He had already been on two patrols that day and was driving another routine escort convoy when they began taking small arms fire.
His squad leader, MSG Anthony Roszko, was in the vehicle behind the then-Pfc. Debolt when their vehicle hit an IED. Roszko says in a blink of an eye Debolt's truck had been replaced by a fireball. They began helping two occupants who fled from the vehicle when he saw Debolt climb out of the driver seat.
"Debolt twice went right back into the fire and pulled out his brother, getting him to safety and helping put the fire out on him and his fellow soldiers before even putting the fire out on himself," says Roszko.
They were outnumbered nearly 10 to 1 in the ambush, Roszko says. Debolt continued to fight, despite suffering burns on 50 percent of his body, until he was nearly incapacitated and ordered by Roszko to take cover. Reinforcements arrived and they carved their own path through the desert.
"You and everyone else that day embodied what being a soldier in the Big Red One, the First Infantry Division is all about," says Roszko.
Debolt spent 6 months in burn units receiving treatment. He redeployed to Afghanistan in 2011 with the 1st Battalion, 26th Infantry Regiment, 3rd Brigade Combat Team, 1st Infantry Division. During his service, Debolt — an Ohio Military Hall of Fame inductee — has also earned the Army Commendation Medal, the Purple Heart, the Army Good Conduct Medal, the Afghanistan Campaign Medal with two Campaign Stars and the Combat Infantryman Badge.
Fort Hood Commanding General Lt. Gen Paul Funk hosted the ceremony. Funk says it's because of people like Debolt that America thrives today and called him a "true American hero."
"He put his teammates first, he wore his jersey — the cloth of our great nation, and our jersey — with selflessness […]" says Funk. He ended his remarks by telling Debolt he's proud of him.
Debolt spoke with media after the ceremony. He was appreciative of the honors, but didn't see things the same way.
"I don't see myself as a hero, I'm just doing my job — saving your friends," Debolt says. "Why wouldn't you?"
Throughout his treatment, his wife Amanda and children Braylon and Sophia were by his side. Debolt says he was proud that his family got to experience the ceremony with him.
Debolt also says he doesn't see it as a personal accomplishment. He says he dedicates the award to those who never got recognition for their valor and to those who didn't come home.
In a statement, 1st Infantry Division Commanding General Maj. Gen. John Kolasheski says it was an honor for Fort Riley to be the ceremony's venue.
"His personal courage under fire personifies the fighting spirit of the American Soldier," says Kolasheski. "He is an example to all of us."