MANHATTAN — With a swing of a sledgehammer by Kansas Department of Aging and Disability Services Secretary Laura Howard, Pawnee Mental Health ceremonially broke ground — or rather drywall — on its new voluntary Crisis Stabilization Center Thursday.
The formation of the center is the result of years of work from stakeholders from across the community and representatives at multiple levels. Residents and stakeholders have brought up a need for more mental health services since 2010 when the Riley County Mental Health Task Force was created. Pawnee Executive Director Robbin Cole says that need was compounded when the state placed a moratorium on admissions to Osawatomie State Hospital.
The full start-up cost for the facility is estimated at $1.1 million. Pawnee received a state grant of $725,000 for 2019, but there was some concern that state funding may dry up after that. Cole says that the funding is in 2020's budget.
"About 77 percent of everyone who is served by this Crisis Stabilization Center will not have insurance that will pay for the services that they receive," says Cole. "This makes the state's funding source essential."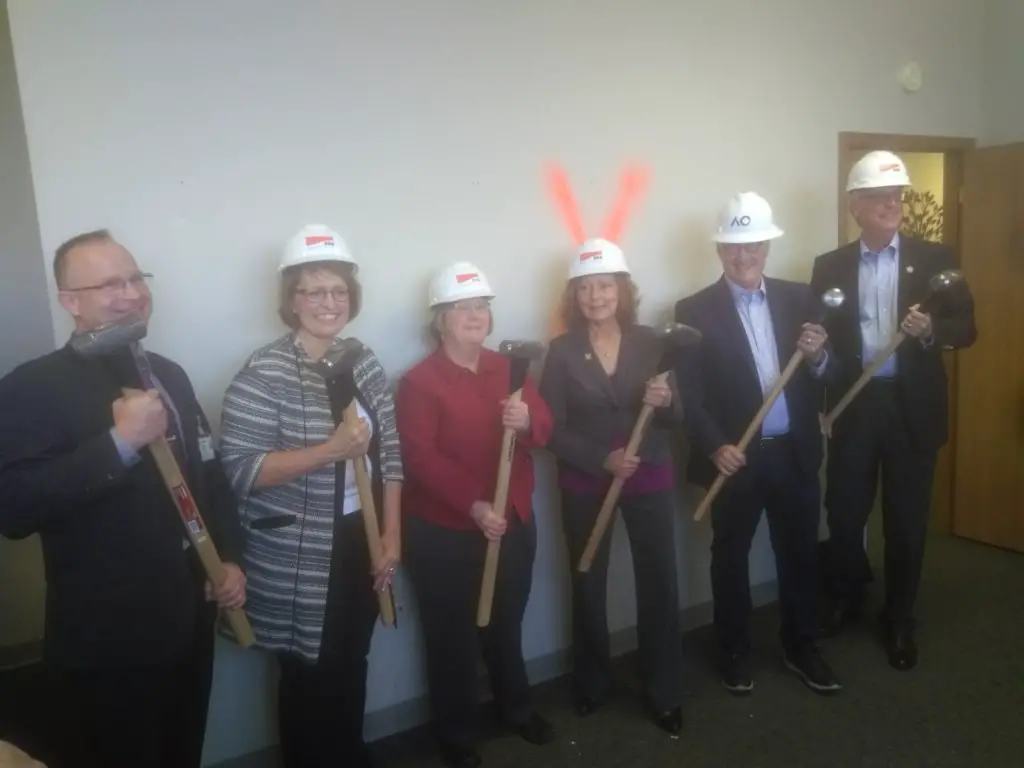 The Goldstein Foundation also pledged to match donations up to $200,000 to complete the budget. They are registered with the Greater Manhattan Community Foundation.
The plans for the center feature six beds. Three will be reserved for crisis observation services, which are provided for patients who are experiencing less serious symptoms who will stay in the center for up to 24 hours. The additional three beds will be reserved for crisis stabilization services, provided to those who need more intensive treatment. Such patients will be permitted to stay up to 10 days and will be re-evaluated every 72 hours to see if they need continued stabilization. Cole says they hope to have it open by mid-September.
"We see it as being key to improving the success of members of our community who are experiencing mental illness and substance abuse disorders," says Cole.
Secretary Howard commends the area for making this happen and says the state should emphasize similar partnerships like this.
"I'm just really, really impressed," says Howard. "I look at the turnout here today and that tells me how successful this crisis stabilization center is going to be because you have commitment from people from so many different sectors."
Representatives from local health care groups, Manhattan, Riley and Pottawatomie Counties, RCPD and the Pottawatomie County Sheriff's Department, as well as state representatives were in attendance — packing the lobby of the center.
The Center is located on Hayes Drive in the Pottawatomie County side of Manhattan. Pottawatomie County Commissioner Dee McKee says the center is a necessary intermediate step in mental health treatment.
"This particular facility is one of the answers that helps bridge a gap that the state has abandoned," McKee says. "That is the people who do not need absolute services at Osawatomie or Larned and that they really don't belong in jail."
Pottawatomie County Undersheriff Shane Jager was also in attendance. He says the facility will also be a help for the three local law enforcement agencies.
"We have seen an increase in mental health [needs]amongst the county," says Jager. "I think it's a great tool that we're going to be able to utilize."
Manhattan Mayor Pro Tempore Usha Reddi was mayor when the city began taking a bigger role in local mental health concerns. She, Mayor Mike Dodson and Commissioner Linda Morse were in attendance.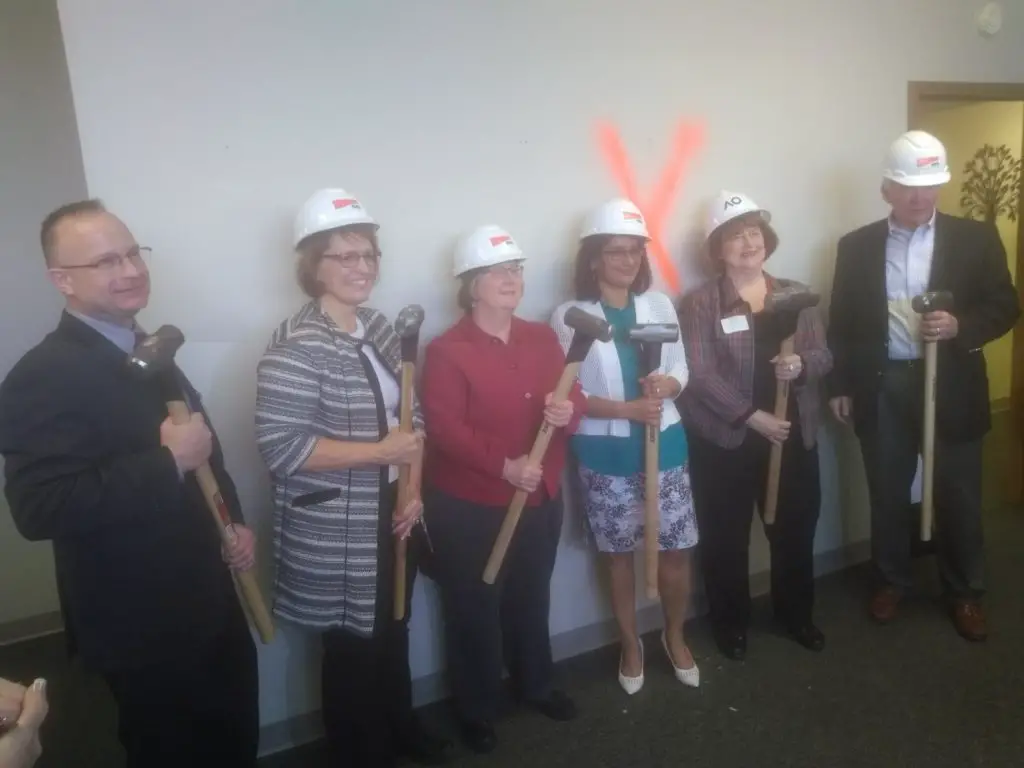 "This doesn't solve the problem, but it creates a certain haven for those that don't need to be in jail and don't need to be in the ER," says Reddi.
State Sen. Tom Hawk was in attendance and says the center is a wise use of tight tax dollars. He also says the state is hoping that lottery funds can help ensure funding for the future.
"There have been some hiccups with that," Hawk says. "I think that the lottery has got those hiccups worked out and we'll start getting those machines and we'll have the flow of the money."
Rep. Sydney Carlin was also there and caught up with KMAN by phone after the ceremony. She says Gov. Kelly has been clear about her support of improving mental health care and expects the money will continue to be in the budget.
"And I think the legislature does recognize the need as well, I'm not too worried about that," says Carlin. "Although it is like everything else it needs more and more funding as we go along every year and it's not something that's going to go away."
Manhattan Area Chamber of Commerce President and CEO Jason Smith and other members were also in attendance. Hear Smith's comments on the groundbreaking during his Thursday appearance on In Focus.