The Manhattan City Commission called a special meeting Tuesday to discuss the potential for flooding in the area. (Full video of Tuesday's meeting can be found above).
Tuttle Creek Lake has reached the third highest water level in its history, reaching over 1126 feet as of Tuesday evening. The emergency spillway gates won't need to be opened until the level reaches over 1136 feet — the level exceeded during 1993, the only time the gates had to be raised. In flow as of Tuesday was 17,500 cubic feet per second (CFS) and outflow was 200 CFS.
Manhattan Fire Chief Scott French says the 1126 foot point is the trigger for daily briefing and planning meetings between area emergency services officials and the Army Corps of Engineers.
"Making sure that we know that our maps are up to date, making sure our staff who may be going out to do evacuation notices or advisory notices are aware of what the rules are going to be and creating good check points for all of our staff," French says.
There is no need to evacuate at this time, that information will be made readily available should it be deemed necessary. The lake is currently at 73 percent of its flood pool capacity and the Army Corps of Engineers has no plans to release water that would exceed river bank bounds any time soon, according to Public Works Director Rob Ott.
Ott says residents should be aware of whether they live in an at-risk area or an area that has experienced past flooding and be proactive in preparing for flooding even before such an event becomes a certainty. Residents can view an interactive map of how waters may rise based on modeling data and past event online. Click here.
"Should think about your pets, the food for your pets, medicine for your pets," Ott says. "Important documents, birth certificates, marriage certificates, wills — even divorce papers, too."
They also urge residents to keep in mind that even if modeling doesn't show their property is at risk, they may still be impacted should a flood occur — possibly by road closures.
Additionally, city officials have been sending out notices to be aware via mail to properties that may be impacted based on flood modeling and past events. French says they are also going door-to-door to reach those who did not notice the letter and will leave notices hanging on doors and in mailboxes. If they cannot reach them again, staff plans on returning to try and speak with them in person. French says they'll also work to identify the disabled or physically limited populations in at-risk areas.
"We're asking the citizens to continue to prepare," says French. "There's not necessarily a need to over-react at this point, but the preparation at this point on will continue to increase and go from preparing to actions."
Storms north of Kansas in Nebraska and other plains states have caused high levels on rivers downstream, resulting in the Corps having to retain water at Tuttle Creek. Releasing that water without waiting for levels to drop could cause substantial damage to other communities that can't accommodate the water. Ott also advises residents that even if Kansas experienced an unseasonal amount of dry weather, the lake would still take 42 days to drain its current level down to a normal stage.
"Just because it quits raining for a couple of days, the Corps is not going to magically drain down that lake without incurring damages downstream," Ott says. "We're in for a long haul this summer, that's what I want folks to understand."
There are 42 different potential flooding scenarios should the Corps need to open the spillway gates, depending on how conditions play out going forward.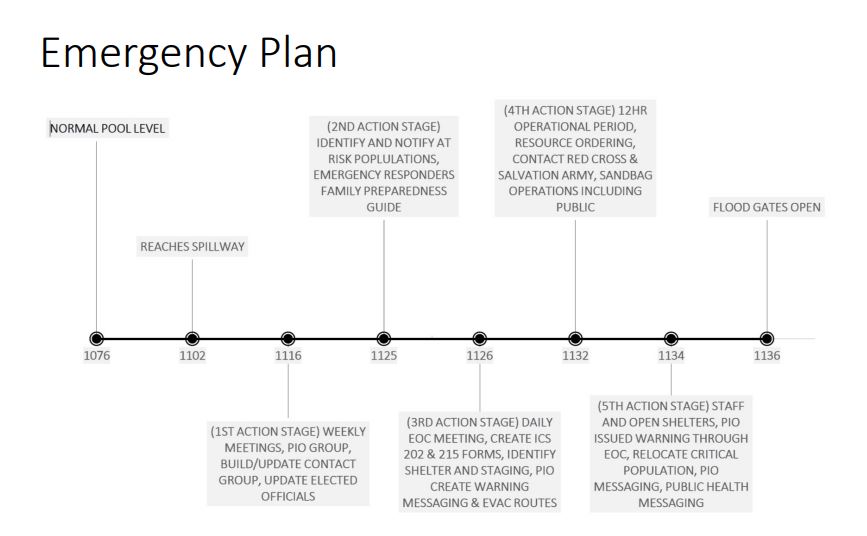 The emergency plan dictates that weekly briefings begin between emergency managers and the Corps at 1116 feet, the normal pool level is 1076 feet. At 1125 feet, emergency officials begin identifying which populations/zones of the city are at most risk and begin informing them of the situation. Now that they've topped 1126 feet and daily meetings have begun, the focus is on completing necessary emergency disaster paperwork to send to the state as well as identifying and staging potential shelter locations and evacuation routes.
Should levels continue to rise and reach 1132 feet, they'll begin ordering state resources and contacting agencies such as the Red Cross and Salvation Army in preparation for potential relief and recovery needs. Sandbag operations on the levee will also begin. If the levels reach 1134 feet, shelters will begin to open, warning messages will be ramped up and evacuation advisories or orders may be issued to those at risk. If levels climb further to 1136 feet, the spillway gates will need to be opened.
Riley County Emergency Management, under the direction of Pat Collins, will work to acquire state resources as well as coordinate all preparation, planning and other efforts. Fire crews will assist with evacuation and water rescues, if necessary. Law enforcement will help with traffic management as well as security to prevent against looting. Public Works crews will close roads as needed, work to protect vital utilities like the water treatment plant and patrol the levee and monitor for structural integrity.
"We've done hands-on sandbag training for our street division and we've also secured materials for flood fighting, specifically related to the levee," says Ott.
Ott also says rising levels on the Kansas Rivers could potentially block outflow from the Wastewater Treatment Plant, which has to be pumped out for discharge. As a result, they've already preemptively elevated a carrier pipe so water could still be discharged and prevent sewage backup even in the event of a flood.

Ott also says the situation overall is better than 93, both in terms of levels on the Kansas River and infrastructure-wise. He says Westar has the capability to shut-down power to specific areas of the city and wouldn't necessarily need to turn all power off in Manhattan for an extended period of time. Additionally, the city has generators that will allow the treatment plant to continue pumping on the dry side of the levee and provide clean water to residents outside of areas that may be flooded even if the city loses power entirely.
Ott says if that does happen, he has concerns that residents may not adhere to conservation orders as they won't have enough water for irrigation systems. He says if water towers are drawn down to the point their pumps have less than 20 pounds per square inch of pressure, they'll have to issue boil water orders.
"We don't really want to do that, that's going to create issues not just for folks in Northview, it's going to create issues for everyone all the way to the west side, Pottawatomie County Rural Water 1, Riley County Rural Water 1," says Ott. "So even if you live up at Tuttle Creek and your house is higher than Tuttle Creek Dam, you draw your water from us."
Riley County Emergency Management will be issuing about 15 sandbags to households in at-risk areas and the Corps may provide more at their discretion, but the city will not be providing them to the public. City Manager Ron Fehr says sandbagging was extensive in 1993, but ineffective as water ended up breaking through despite the amount of human power and time spent trying to build a wall. Officials recommend spending time preparing in other ways first.
As for Wildcat Creek, Manhattan Floodplain Manager Chad Bunger says it "behaved" Tuesday, as storms projected to cause flash flooding on the creek stayed south. During his update, Bunger also talked about the importance of flood insurance for residents all around the city.
He directs residents to check out FloodSmart.gov and advises residents to be aware they need both structural and content flood insurance if they want belongings covered. Bunger says anyone in the community can get flood insurance whether they are in a floodplain or not. He says he's gotten personal confirmation from FEMA that the insurance covers basement sewer back-ups if your neighborhood experiences a flood — renter or homeowner.
"If your insurance agent or insurance adjuster says otherwise, have them talk to me and I'll set them straight because that's not correct."
Due to the city's floodplain management efforts, residents of Manhattan receive a 20 percent discount on premiums. Bunger also says there is a 30 day activation period before flood insurance policies go into effect.
"We know how wet things are and what the conditions look like, so if you haven't gotten your insurance and are fearful of flooding now would be the time to do it," Bunger says.
The Army Corps of Engineers is holding a separate meeting on the topic Wednesday, May 22 at 7 p.m. at Manhattan Fire Department headquarters.
Residents can find interactive maps of potential flooding under multiple different scenarios and other information by visiting Manhattan Flood Updates on Facebook.