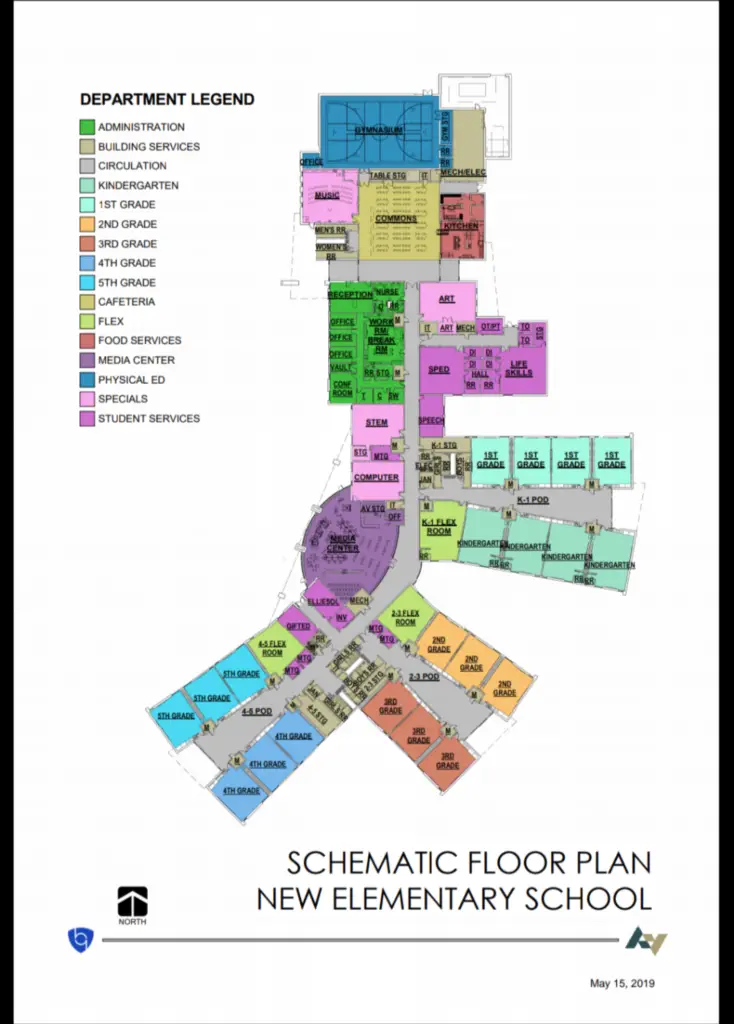 A layout of the new elementary school for Manhattan-Ogden USD 383 was presented to the board of education Wednesday night.
Bob Faires with Alloy Architects was joined by Clint Hibbs with BG Consultants to present the plans to the board.  The presentation included the building layout as well as generated pictures of the exterior.  Faires says the size of the school will be about 70 thousand square feet.
One of the most important aspects of the plan is the flow of parents and students during pick up and drop off.  These areas for buses and parents will flow in through the same entrance with a commons area nearby. These areas can close off the rest of from the school so the public can access the area without opening the entire school.
The northern area will hold the commons area, gymnasium, kitchen, and music rooms.  South of this entry will hold the administration area, art rooms, and the SPED hallway.
The school will have three wings with the different grades occupying each wing.  These wings will all be connected to a central hub.  The first wing will be occupied by Kindergarten and First grade.  The second will be shared by the second and third grades.  The final wing will have the fourth and fifth grades.
The central hub will be built around the media center so all grades will be able to use the area.
A second drop off area will also be in the back of the school, along with playgrounds, a hard play surface areas, and playing fields.  The hard surface areas will also serve as fire lanes as well.
The architects are still working on the look of the exterior of the building.  This includes the entrances and exits to the building. They want to make sure there is enough overhang for protection and shade.
The new building will be located in the Blue Township area.