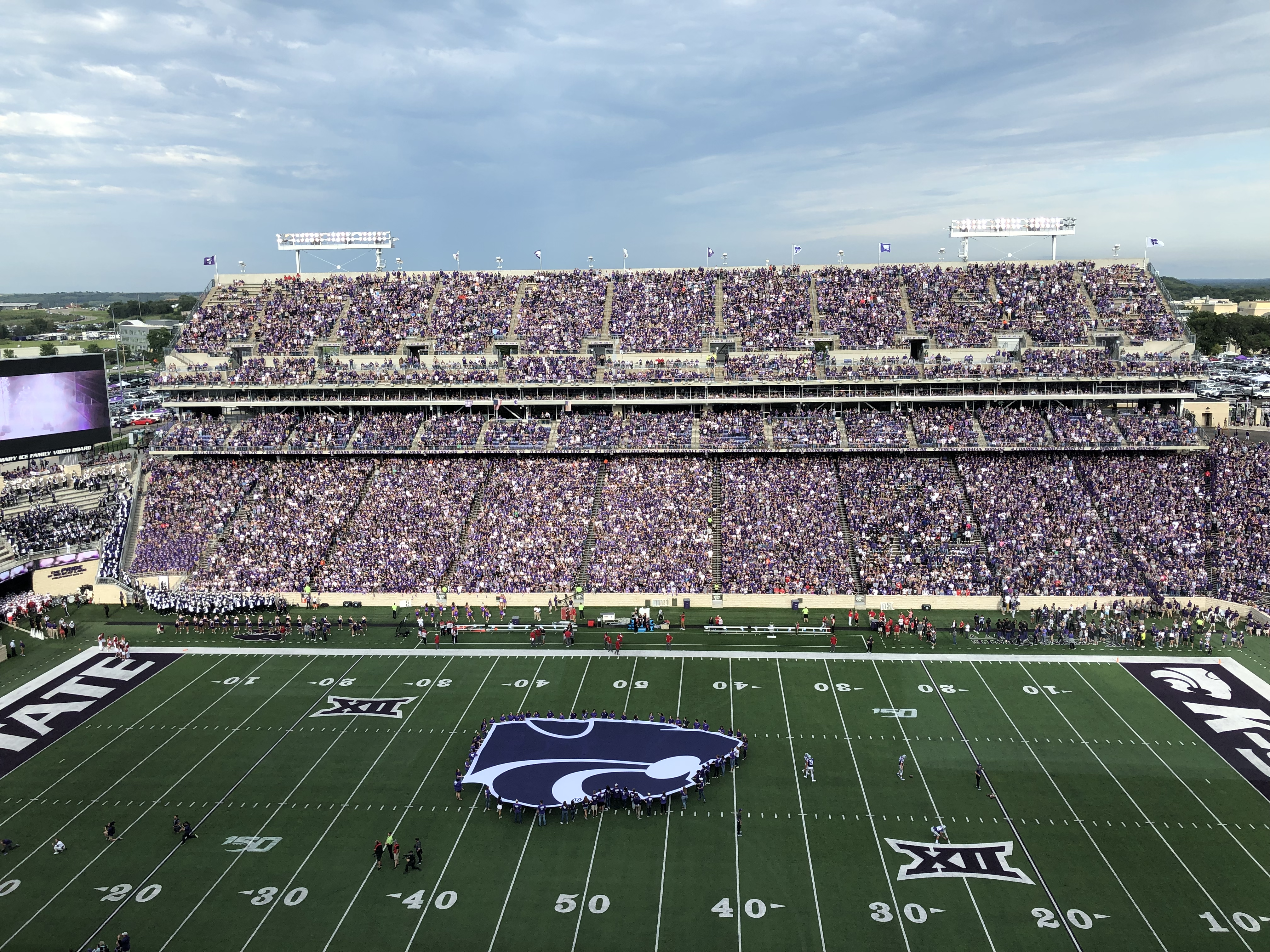 Manhattan, KAN. – It was a dominant first half for K-State and a complete 180 from last season's season opener vs South Dakota. Chris Klieman's K-State career got off to a flying start on the ground, a spot where the plan was to use a multitude of runners.
K-State had four different runners score a touchdown; Harry Trotter, Jordon Brown, Skylar Thompson and James Gilbert.
Quarterback Skylar Thompson also had a touchdown pass to Dalton Schoen get called back in the 1st half, which led to the only hiccup of the first 30 minutes when Blake Lynch missed a 37 yard field goal attempt.
On the defensive side of the ball, K-State abruptly ended Nicholls' first drive of the game with an AJ Parker interception. Nicholls didn't have a productive drive once in the 1st half and only gained 65 total yards.
The Colonels flipped the script in the 2nd half though, scoring the only touchdown of the 3rd quarter on a Kendall Bussey 26 yard carry. Nicholls went 75 yards on five plays to score their first touchdown, 10 more yards than their entire 1st half yardage.
K-State's lone 3rd quarter possession led to a turnover on downs after Trotter failed to convert the 4th down run. Just eight seconds into the final quarter, Thompson found senior wide receiver Dalton Schoen 38 yards down the field and in the endzone for his first passing touchdown of 2019.
Despite the active offense from K-State, the most impressive play of the night came from defensive back Jonathan Alexander, when he stripped Bussey and took it to the house for a touchdown.
K-State called off the dogs and put Nick Ast into the game at quarterback with more than 10 minutes remaining, clearing up any doubt on who the backup to Thompson would be. He was joined in the backfield by runningback Tyler Burns, the brother of former K-State DB and return man Morgan Burns. Burns immediately shredded through the Colonel defense for 60 yards and a touchdown.
Klieman and the Cats will next face Bowling Green who beat Morgan State 46-3 on Thursday.
| | | | | | |
| --- | --- | --- | --- | --- | --- |
| Team | 1st | 2nd | 3rd | 4th | FINAL |
| Nicholls | 0 | 0 | 7 | 7 | 14 |
| K-State | 14 | 14 | 0 | 21 | 49 |
Leaders
Passing:
K-State: Skylar Thompson-16/22, 212 yards, 1 TD
Nicholls: Chase Fourcade-10/18, 126 yards, 1 INT
Rushing:
K-State: James Gilbert-18 carries, 115 yards, 1 TD
Nicholls: Julien Gums-12 carries, 75 yards, 1 TD
Receiving:
K-State: Dalton Schoen-3 catches, 65 yards, 1 TD
Nicholls: Dai'Jean Dixon-5 catches, 92 yards
Kicking:
K-State: Blake Lynch-0/1 FG
Nicholls:
Up Next: K-State hosts Bowling Green at 11 AM on Saturday September 7th. Powercat Gameday starts at 7 AM on 1350 KMAN and 101.5 K-Rock.