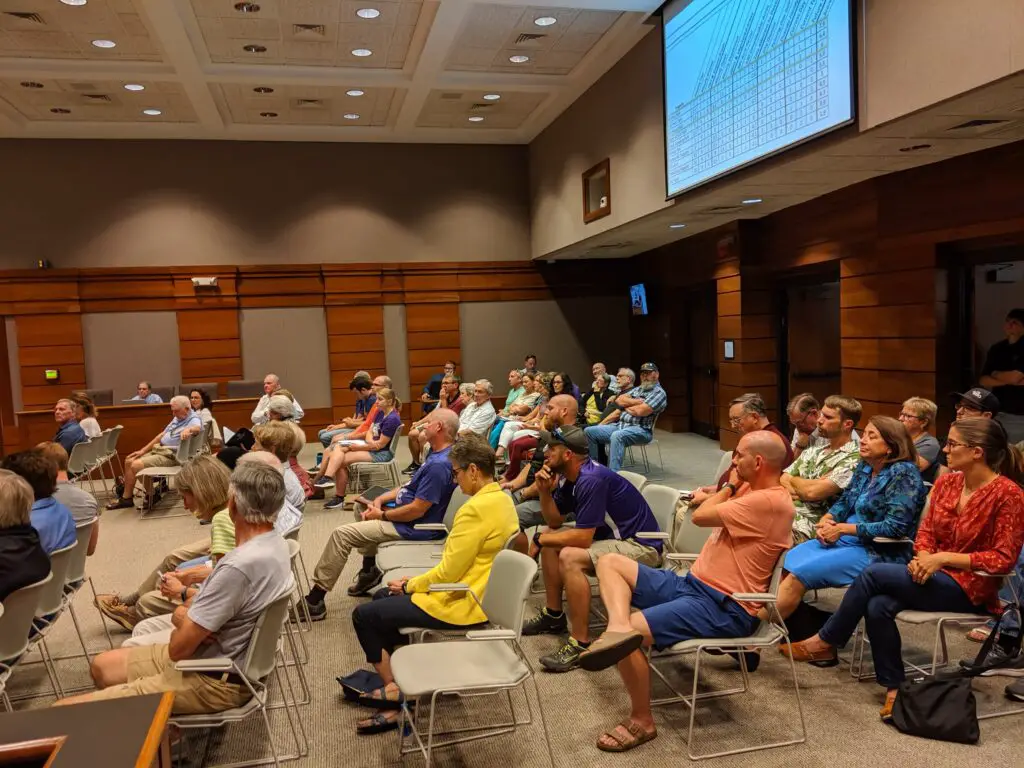 Manhattan continues to work on a master plan for the future of Warner Memorial Park and expanding disc golf isn't part of the picture.
City Commissioners didn't vote on the plan at their Tuesday work session, but four of the five expressed that they didn't think the park — which already features a 9-hole course — was right for an 18-hole championship course. The Parks and Recreation Advisory Board also does not support expanding the course.
Kern Warner donated and sold the 82-acres that became Warner Memorial Park in the late 1950s, originally intended to remain as natural and undeveloped as possible.
"There's a lot of places that are relatively uninhabited that also offer some opportunities for maybe larger parking facilities," says Mayor Mike Dodson, who opposed expanding the course. "I'm a little bit more inclined to look at more rolling terrain — even Northeast Park has got some tremendous capabilities on the southern end."
City administrative staff presented an updated concept for the park which removed unpopular possible future developments such as a nature playspace and dog park. Staff sought the commission and public's thoughts on possible features in addition to the expansion of disc golf such as expanded parking, a ravine bridge, removal of invasive plant species such as eastern red cedar and honeysuckle, new and improved picnic shelters as well as reopening the road into the park.
City administrative staff found that Warner was the best location of 10 city-owned properties in a matrix that factored in acreage, topography, residential adjacency and the presence of an existing course. Since the November 2018 discussion on the same topic, staff also altered the proposed disc golf course expansion to avoid crossing trails and provide a 50 foot buffer from property lines on the north side of the park which many in attendance did not think was sufficient.
"I don't want it crowded in [Warner]," says Commissioner Linda Morse, though she supported finding another place for an 18-hole course in the community. "I don't like the fact that this professional level plan goes that close to the neighborhood on the north."
Residents packed City Hall to advocate for and against the expansion, speaking for more than an hour during the public comment period. Many voiced concerns regarding safety, property damage and wildlife impact. Debbi DeVenuto, great-granddaughter of Kern Warner, reiterated that the park was intended to be — and should remain — natural.
"City Park — there's no natural area, Northeast Park — there's no natural area, CiCo Park — very little natural area that's accessible," says DeVenuto. "Warner Park is so unique, we need to leave it to that way."
She also advocated for reopening the road into Warner all the way up to the existing shelter at the park's heart.
Many point to Roger Schultz Community Park as an alternative location for an 18-hole course, which Adam Johnson says is a similar park but has steep grades that make navigating it a struggle. City administration also said additional cost would be required to develop a course there.
"Disc golf fits this park, disc golf belongs in this park," says Johnson. "If it belongs anywhere in this city, and if we're making the argument that it [belongs]in Schultz park, it definitely belongs in Warner Park then."
Mayor Pro Tem Usha Reddi says they still have different options and that it's not the time for such an expansion.
"But if we're not going to do it at Warner Park and have it there, I'm ok with not having an 18-hole disc golf [course]in this area."
Commissioner Jerred McKee supported the expansion, saying modifications made by staff were a good compromise and that no injuries or property damage resulting from disc golf have been reported in Manhattan.
"The 50-foot buffer — especially since we don't have the disc golf set up so they're throwing at the buffer, they're parallel throwing to the buffer — […] I think that buffer is sufficient at least to start exploring the concept further," says McKee.
Commissioners were split on the topic of whether to open the road into the park back up, which was opposed by the PRAB. Staff will continue to hone the master plan and bring it back before the commission at a later date for further direction and eventually approval.