The Manhattan-Ogden USD 383 board of education adopted its 2019-2020 budget Wednesday.
Before the board made their decision, a public hearing was held to hear comments from the public.  However, there was no public in attendance.
The overall budget includes a mill levy of  62.12 mills; a 5.33 increase from last year. The increase is due to the 2018 school bond approved by voters.   The increase from the bond was projected at 7.77 mills. If not for the bond, officials said the levy would have seen a 2.45 mill decrease.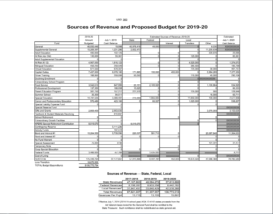 The total budget authority for the district is $106,775,94.  This is an increase from last year's budget authority of $93,962,380.  The latest valuation for the district is $212,500.  The effect the mill levy will have on property owners is total property tax of $9,000. This equates to a $156 increase at $23.70 for each mill.  For commercial businesses valued at $580,000, the total property tax of $9,000 will increase $1,240.
Looking at the capital outlay cash flow, the district will start out the year with a little over $8 million.  The district is projecting an $8.8 million unencumbered cash balance at the end of the fiscal year.  They are setting aside money for middle school roof replacements, turf replacement at Bishop Stadium, and general expenses for the upcoming new elementary school.
Board President Curt Herrman says he was overall satisfied with how the budget turned out.   He says with the addition of the property values increasing, it appears the actual increases are closer to 10%, but around three percent of that is due to those valuation increases.
When asked if there was anything he felt could be changed about the budget, Herrman says he was hesitant to make anymore cuts that were not necessary.  He also attributed the money they will be receiving from the state from the
recent funding lawsuit
has been a big help.
As for the increase itself, Herrman says this does come from the bond the community voted on.  The mill levy increase helps the district get started on bond projects with new additions and a new school in Blue Township.
"Strong schools is one way to have a really strong community and Manhattan is growing," says Herrman, "If we want to attract businesses to come to our community and bring in employees that bring their families, so having strong schools is important to that."
Herrman says the community can take pride in the increase because of what they are getting out of it. All of the money is going to the schools, which he says in turn builds a better community when you have a strong education system.