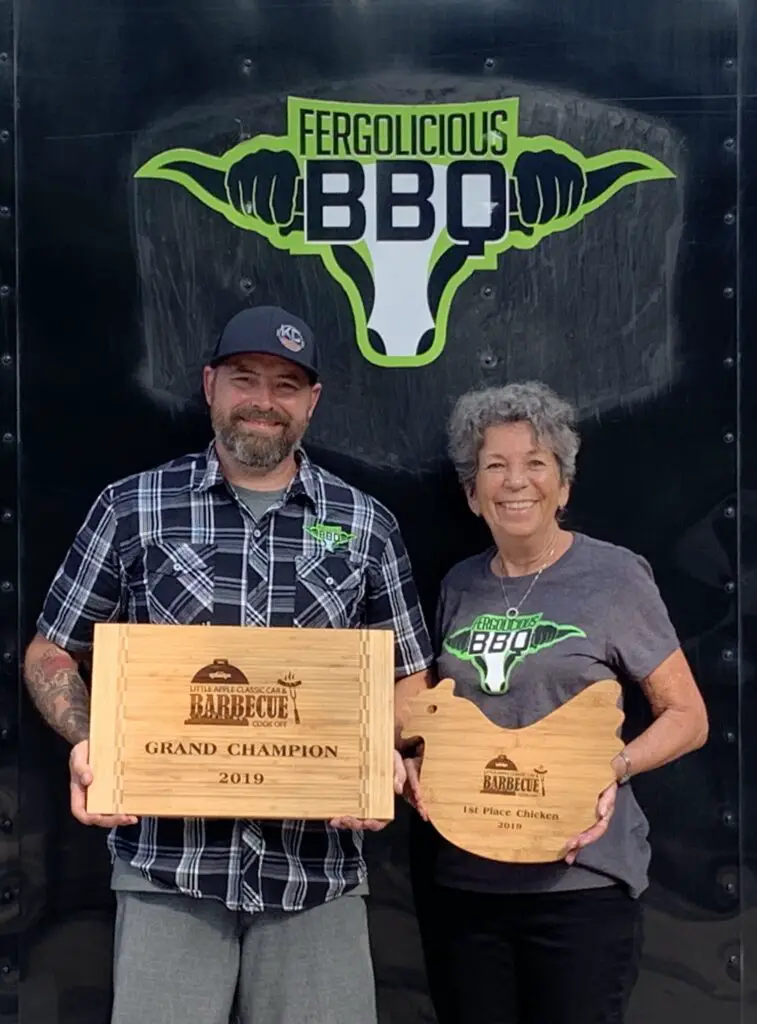 As far as food competitions and regional pride go, barbecue takes the cake.
From states to cities to even neighbors, people at all levels like to argue that their barbecue is the best, but rarely does anyone get the opportunity to officially say their's is better than their competition's with a trophy to back it up.
That is exactly what Richard Fergola and and his mother, Nora Fergola (also known as "Mama Ferg"), of Gardner, KS, got to do so on Saturday, as they were dubbed grand champions of the Little Apple Classic Car and BBQ Cook Off at the Midwest Dream Car Collection in Manhattan.
Fergolicious, which is their team name, beat out 23 other teams, but this is hardly their first taste of victory since they began competing in 2012.
Their star power doesn't stop there, as they have also been able to go on two different barbecue-themed television shows: the Food Network's Chopped Grill Masters and Destination America's BBQ Pitmasters.
Through all of their success, though, Richard says the day still starts very early.
The competition itself featured a total of 24 teams competing in four different categories: chicken, ribs, brisket and pork.
The winner of each category received a cash prize and a trophy while top 10 teams in each category received a cash prizes.
Once the winner of each category was announced, the team with the most points across all four categories was named the grand champion.
Competitors received points that will go towards qualifying for future competitions.
Teams also competed in the People's Choice competition, which Little Apple Classic Car and BBQ Cook Off committee chair Tony Ballard says gave people a chance to do something not typically allowed at barbecue competitions.
The winner of the People's Choice competition was Finger Leikam Good.
The event also featured activities for all ages, such as a beer tasting, a bouncy house, live music and yard games.
While this was just the event's first year in Manhattan, Ballard hopes there will be many more to come.
In addition to providing competition, good food and fun activities, the event also served as a fundraiser. Part of the proceeds went to the No Stone Unturned Foundation, a Manhattan-based organization.
Dina Clark, the foundation's executive director, details the organization.
The organization serves over 200 families per year across 17 counties in Kansas.
Of those over 200 families, Tony Ballard's family is one of them.
The No Stone Unturned Foundation gets its name from Stone Wolford, the son of the organizations founders, Melinda and Eric Wolford.
Melinda is the organizations current president and Eric is a former K-State football player.
The story of their foundation and more information about what it does can be found at nsuf.org.