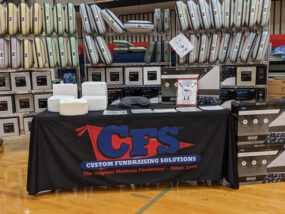 Manhattan High School students stood outside the school on Sunday to get the attention of community members to buy one thing; mattresses.
The MHS Big Blue Band and journalism department sold mattresses to raise money for trips for each department.  The fundraiser was put on by Custom Fundraising Solutions, located out of Wichita, for the school.  Students were even dressed in mattress costumes to get people in the door.
Owner Terri Costin says the funds will go to help pay for trips and conferences the departments will attend.
"Our goal is always to raise as much money as we possibly can," says Costin, "$10,000 is always a good level we are looking at especially for the number of kids who are involved, to help them with their goals."
The fundraiser has averaged around six thousand dollars for MHS each year over the last three. This year they had hoped to sell 50 to 70 mattresses to match that 10 thousand dollar goal.
Costin says she enjoys returning to the fundraiser and seeing the kids who are still involved from the last time she was there.  She added her company never wants to see a program not be able to do what they want to do because of funding.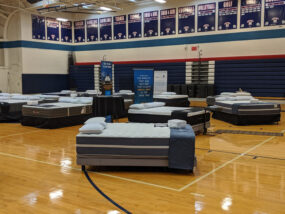 MHS Journalism Teacher Kristy Nyp says they heard about the fundraiser from another school.  While reaching out Costin, MHS Bands Director Joel Gittle was also looking into the idea as so the two departments put the event on at the same time.
Nyp says the funds help the students attend events and conferences to help get them the real world experience and speak with professionals. The big one this year they are looking towards is the National Scholastic Press and Journalism Education Association Convention in Washington D.C.
"It's really expensive to go, so to take a dozen kids we have to do a lot of fundraising to make that happen," says Nyp.
Journalism Student and MHS Senior Sophia Comas is one of those students who would like to attend, and was out Sunday trying to get people in the door.  This was her first time participating in the fundraiser.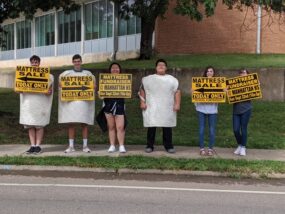 "I really really really want to go to the convention, but it's expensive so any kind of fundraising that we have an opportunity to participate in is one I jump to do," says Comas, "It's something I'm really passionate about and if I didn't have the ability to go because of something like funding, I would be really disappointed."
On the band side of the fundraiser, Gittle says this event is their biggest fundraiser of the year.  He likes the fundraiser because it is a service fundraiser for the students instead of a sales one.
"We're saturated with sales fundraisers going door to door and we are not a big fan of those.  We look for more service fundraisers where we can and this is the most fruitful one we have done," says Gittle.
The students are able to raise money for personal accounts by participating in the sale or having a mattress purchased in their name. This money helps offset their costs for a major trip the band takes every three years.
"After we get done taking the money out for the students, there's quite a bit money left over for the general fund and that buys other things that might bring costs down for the students," says Gittle.
Both Nyp and Gittle says they feedback from the students on the sale has been positive.