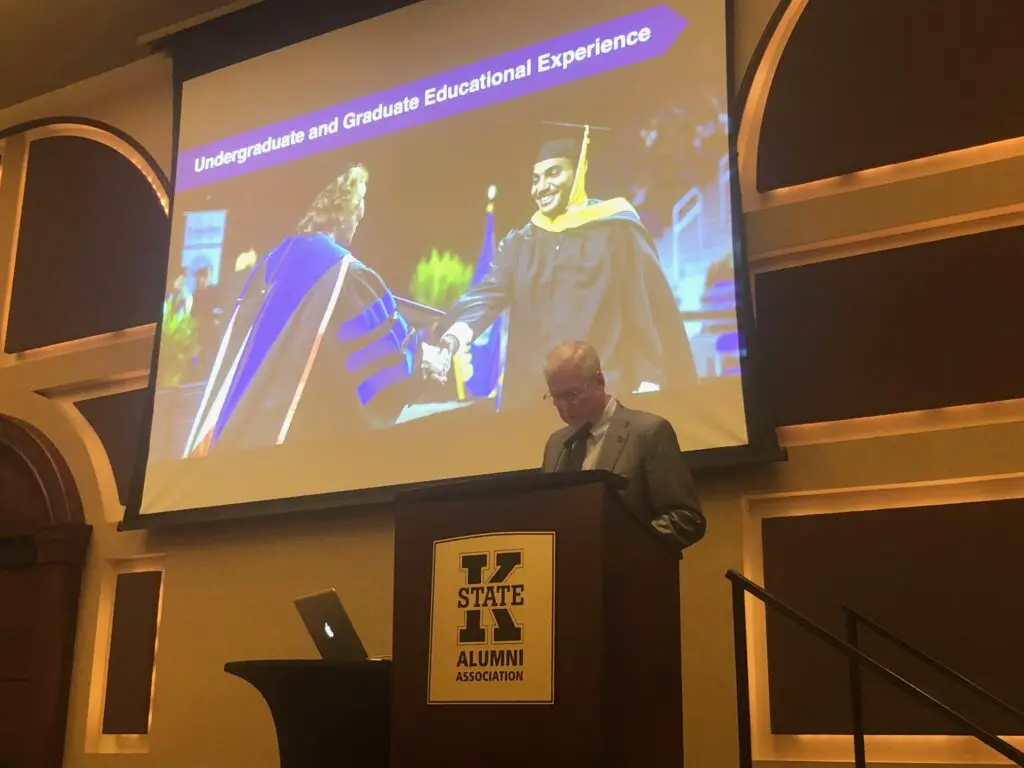 Enrollment at Kansas State University has dropped for the 5th year in a row. During the Kansas State, State of the University Address, President Richard Myers addressed this problem.
"We have revamped our scholarship and tuition strategies to reach new markets. Particularly those out of state". he said Friday.
A total of $250,000 is going toward strategic planning.
"My guess is that in this 1st year as were still trying to recover from enrollment decline. That if it has something to do with improving enrollment it will probably get a more favorable look," Myers said.
It remains to seen how this will impact Kansas students as K-State shifts its focus out of state to improve enrollment.
New Nursing Program
Kansas State University may be planning a new nursing program soon through a partnership with Wichita State University. On Friday,  President Myers highlighted the new effort.
"In the planning stage but not yet approved is a nursing program that we will do along with Wichita State on this campus," Myers said.
Currently K-State only has a pre-nursing program which does not offer a degree and cannot be majored in. Students at K-State currently interested in nursing would have to transfer to get a nursing degree. Myers says a K-State nursing program would serve a community need.
"Both those programs do a couple of things, obviously well get students coming to K-State that wouldn't otherwise be able to go here, but more importantly they serve needs of this region where we have real shortfalls. Both in nurses with bachelors degrees and with physicians assistants. Those folks are more likely to serve the rural communities," Myers said
Campus Construction Updates: 
President Myers also gave updates on Campus construction during the address.Hale Library, which sustained major damage as the result of a fire in 2018. Is nearing the final stages of renovations.
"By early 2020, the second floor will be open and by fall 2020 most of the library will be open. But I think the grape room will take more time," he said.
The first floor of Hale Library is already completed and is open to students who already own it Myers said jokingly Friday. This is good news for K-State students who were without their library for the entirety of the 2018-2019 school year.  President Myers also provided updates on the various athletic construction projects.
"The soccer stadium is about complete. I think it will be next month they have the locker rooms and all that done, so at least they will be able to play one or two of their last games in the stadium," Myers said.
Myers also gave an update on the baseball stadium renovations that have been ongoing.
"That renovation is a lot of work and they're not going to increase the seating but going to make it a little bit nicer and add some additional suites and that are going to be complete by the time baseball opens up this spring," he said.
The women's volleyball team will also be getting a new $17.5 million arena and Bill Snyder Family Stadium will undergo a $29 million south end zone upgrade. The facilities upgrades are part of a larger $210 million facility master plan.