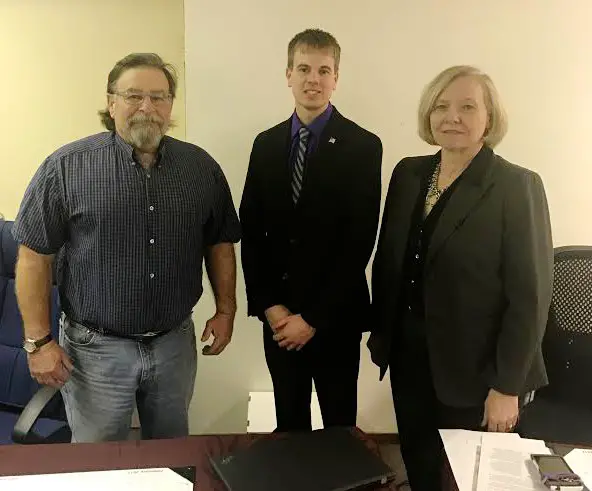 WESTMORELAND, Kan. — Road and bridge damage, some of which is due to an August that saw about 10 inches of rain, was one of the main topics of discussion during the Pottawatomie County Commission meeting Monday morning.
Public Works Director Peter Clark displayed a map showing sites of storm damage that occurred between April 28th and September 5th. Of the more than two dozen pending repairs shown on the map, most appeared to be in western Pottawatomie County. Clark said that road repair may end up being costly in the way of materials.
"A lot of these problems, there really is not a good solution besides bringing more rock in. Cleaning out the ditches and trying to recover some of the rock is possible but in many cases it's mixed with a significant amount of mud and silt and is not reusable," he said.
Clark mentioned a specific instance that occurred on August 30 that saw significant road obstruction.
"Sand Creek, where it comes down underneath Highway 24 and crosses Military Trail, that area had about six inches of rain and there was about 18 inches of sand on the road surface," he said.
Clark also gave his monthly update to the county commission on the status of roads and bridges.
"Junietta and Moody is getting very very close to being completed and would be completed if it weren't for some other rain events. Because the project was still open during (those rain events) we had some erosion on the construction project and it has delayed some of the work," he said.
Among other projects, Clark also gave updates on projects located on Elm Slough Road and Jeffrey Road. Work continues on Elm Slough Road while work on Jeffrey Road will begin later this week. Commissioners on Monday also accepted three bids for the Irvine Acres Lift Station ranging from $860,000 to $883,000 in total. Clark plans to review the bids and bring back a recommendation next week.
In other business Monday:
The commission also approved 3-0 KDOT local road safety plan.
A public hearing was held Monday regarding new codes set to take effect in the new year for the Blue Township Sewer District.
The county has worked closely with the City of Manhattan to draft a resolution similar to that of the city's to allow code officials to essentially be able to jump into enforcement of code inspections more swiftly. One resident questioned whether the codes will extend to sidewalks. Manhattan Assistant Chief of Risk Reduction & Code Services Brad Claussen says it will not, but assured they won't close a project until Public Works has finished its inspections.
"I think there's a sidewalk inspection and a driveway inspection. We won't allow it to be occupied until those things are completed," he said.
Claussen also cleared up some confusion as to which body will govern any setbacks for building permits.
"The county will actually do a review of the plans to make sure the set backs are clear and then our staff will in turn confirm that it matches what the county approved plan is," he said.
The new codes for the Blue Township Sewer District will impact any new buildings that get permitted on or after Jan. 1, 2020. Under the resolution when it comes to obtaining a permit, there would be no exchange of funds to Pottawatomie County. Those funds would be paid directly to the City of Manhattan.
-Brandon Peoples and Derek Simmons contributed to this story