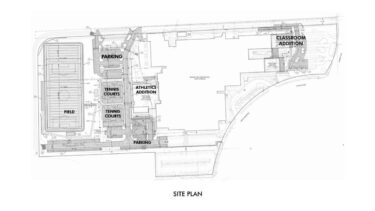 The Manhattan-Ogden USD 383 board of education got their first look at the designs for the Manhattan High School West campus expansions.
The hardest challenge for the Manhattan High School West Campus renovations is fitting all the staff and students from the East Campus.  This is according to Adam Sterns with Gould Evans as he presented the options.  Stern gave somewhat detailed options they have been looking at based on the master plan.
"There's about 70 thousand square feet of additions in both the auxiliary gym and classroom additions, 100 additional parking spots for the incoming students and faculty.  So that was kind of how the master plan was drawn up," says Stern "The good news is we're about the same square footage."
Sterns says they looked at classrooms in high schools from around the state to get an idea on the rooms they would like. They decided on 800 square feet for each room from teacher input. They then surveyed teachers and students on what they want out of a classroom, with the students saying they wanted larger classrooms.
A quick summary of the results show that students do not use their lockers, students and teachers would both like more collaborative space, they would both like some variety in the types of learning environments, and teachers would like collaboration space to meet with other faculty.
Sterns says they came to the conclusion they need to find a variety of flexible learning spaces, professional space for faculty, accommodate for growth, and make sure the campus is safe and secure.
The first proposed option, which would extend the D and E halls, would add 10 more classrooms to the building. The option also includes a connection between the two halls. The other option was to build a larger area in front of those halls, but Stern says it poses more challenges.
"Because we are adding onto those wings, we have to continue the circulation so we have to remove a couple spaces and add those back," says Sterns.
Circulation was a major part of this expansion since it played a large part as well during the renovations 10 plus years ago.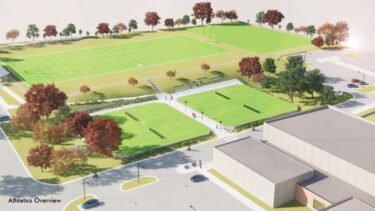 The plan also calls for athletic additions including a walkway from one of the gyms to two new tennis courts leading to the football practice field.
However, they were not given a quite as detailed look on the plan because they are still working things out. One of those is going over budget.  According to Tucker Peddicord with McCown Gordon, the working total is $28.1 million.  This is a overage on the construction budget by about 2.8 million dollars.  They have already started to identify some cost saving measures.  There is about $1.3 million in cost savings they will be vetting over the next few weeks.  This still leaves them with about $1.5 million over.
Assistant Superintendent Eric Reid says they will also be looking at their other projects to see of there are cost savings they can shift from other projects to this one.  They are far enough along on some of their other projects, most notably the middle school project, where they might have some opportunities.
Reid, Gould Evans, and McCown Gordon hope to collectively come up with a solution over the next few weeks.