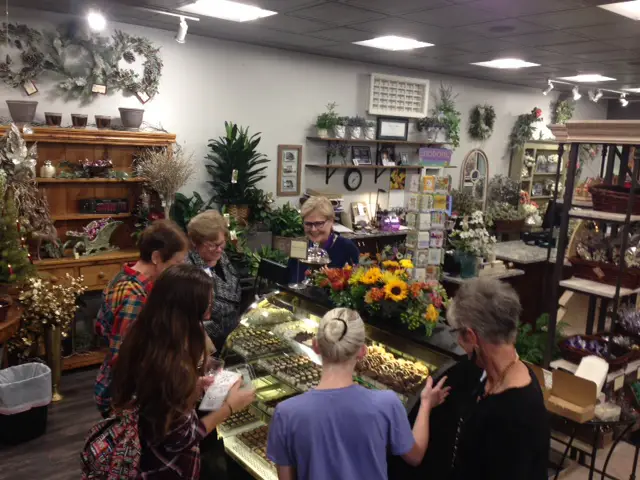 Homecare and Hospice held its 15th annual wine walk Thursday in Downtown Manhattan.
The wine walk, dubbed he "Promenade on Poyntz", is an annual fundraiser for the only non-profit hospice provider in the Flint Hills Region. In the event, participants who purchased a ticket, all met up and checked in at the intersection of 3rd and Poyntz. Participants then made their way to a host of local merchants who opened their doors. Twelve of the local downtown businesses served as stops along the promenade. Each store offered a red or white wine as well as a small treat or snack for the walkers.
Christina Nolte, the Executive Director of Homecare and Hospice, stated that the event is a unique one in the Manhattan area.
"Its a great partnership between a local non-profit and our local downtown businesses, its a great way our downtown community can open their doors for the evening in support of a local non-profit hospice that has been in the community for 40 years," she said.
Nolte went on to state just how crucial support from Manhattan has been.
"This event wouldn't happen without the partnership of the downtown businesses. There are 12 featured businesses each year, and each of those businesses open up their doors to promenade guests," she said.
Proceeds from the Promenade are used to support Homecare and Hospice's mission of providing care to all, regardless of insurance status or ability to pay. Final totals from Thursday's event are pending.
Homecare and Hospice Chairman Scott Emley was out Thursday evening helping with the event for the fourth consecutive year.
"You get to see a lot of people you know, and meet a lot of people you don't know. Its just a lot of fun," he said.
Homecare and Hospice has been serving the Manhattan community and Flint Hills Region as a non-profit for the last 40 years. More information is available at homecareandhospice.org.